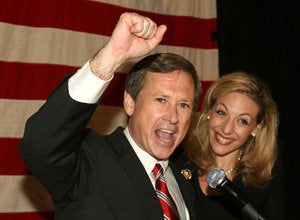 U.S. Rep. Mark Kirk and his wife, Kimberly Vertolli, are divorcing after eight years, according to a statement issued by his office Friday:
Congressman Kirk's divorce from his wife of eight years, Kimberly Vertolli, will become final on Monday, June 8. They remain friends and the legal filings related to the divorce will not be sealed.
Kirk and Vertolli met at the Pentagon in 1998, according to the Lake County News-Sun, where Kirk was lead counsel for the House International Relations Committee and Vertolli was in the Navy.
The North Shore Republican has been weighing running for either Senate or Governor in 2010. He has yet to announce his intentions, despite saying he would do so in May.
Popular in the Community