Rep. Mia Love (R-Utah), who made history in 2014 as the first Haitian-American woman elected to Congress, released a statement on Thursday responding to reports that Trump insulted multiple countries during negotiations on restoring federal protections for some immigrants.
When lawmakers at the Oval Office meeting proposed granting visas to individuals from Haiti, El Salvador and a range of African nations, Trump reportedly said, "Why are we having all these people from shithole countries come here?"
He followed his comment by suggesting that the U.S. "should have more people from places like Norway," sources told NBC News.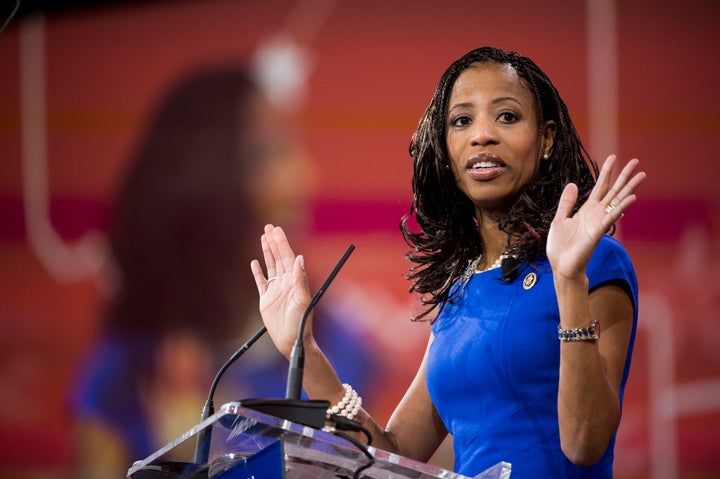 The congresswoman, one of the few Republican lawmakers who called out Trump, continued:
This behavior is unacceptable from the leader of our nation. My parents came from one of those countries but proudly took the oath of allegiance to the United States and took on the responsibilities of everything that being a citizen comes with. They never took a thing from our federal government. They worked hard, paid taxes, and rose from nothing to take care of and provide opportunities for their children. They taught their children to do the same. That's the American Dream. The President must apologize to both the American people and the nations he so wantonly maligned.
"I'm going to do everything I can to work with the administration, but this is a place where we disagree, really disagree," Love told a Utah radio show, according to the Deseret News.
She added, "There is going to be a full-court press on the president on this issue because this is a bad decision."
Two Florida Republicans joined Love on Thursday in condemning the president's ugly comments.
"The president calling #Haiti a 'shithole country' ignores the contributions thousands of Haitians have made to our #SoFla community and nation," Rep. Ileana Ros-Lehtinen tweeted. "Language like that shouldn't be heard in locker rooms and it shouldn't be heard in the White House."
Rep. Carlos Curbelo also stood up for immigrants under temporary protected status, saying that "under no circumstances is it acceptable to degrade, denigrate or dehumanize" them.
The article has been updated to include that Trump has denied having used that specific language, and Durbin's assertion that he did.
Popular in the Community