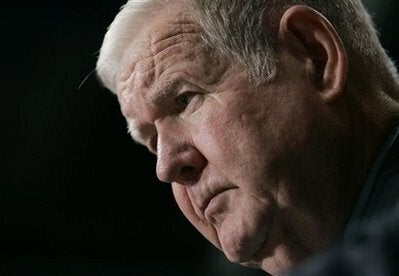 In light of continuing stories exposing Rep. John Murtha's egregious activities, Citizens for Responsibility and Ethics in Washington (CREW) called on Rep. Murtha to step down from his position as chairman of the House Defense Appropriations Subcommittee pending the outcome of a federal grand jury investigation into the lawmaker's earmarking practices. Although the congressman has repeatedly denied wrongdoing despite an ever-mounting number of stories exposing his habit of trading taxpayer dollars for campaign contributions and for using his position to financially benefit friends and family, the Washington Post has obtained documents showing that a contract to fund a biological materials detection test shifted to three companies over a ten-year period, but that companies in which Rep. Murtha's nephew, Robert Murtha, had an interest nevertheless maintained subcontracts on the project though they did little to no work. In addition, at Robert Murtha's insistence, some of the work was moved to Rep. Murtha's district.
CREW has been calling attention to Rep. Murtha's earmarking practices since 2006, when we first included him in our yearly report on the most corrupt members of Congress. When the Democrats regained control of Congress after campaigning against the "culture of corruption," CREW was quick to point out that Rep. Murtha was the wrong choice for majority leader. We warned Rep. Murtha's brand of cronyism made him unfit for a leadership role when voters had firmly rejected DeLay pay-to-play politics and were seeking a new era of government accountability. We also predicted Rep. Murtha's antics would tarnish the Democrats' shiny, new image and they might eventually rue their rush to embrace him. At the time, because Rep. Murtha was a vocal opponent of the Bush administration's war with Iraq, many liberals were willing to overlook Rep. Murtha's shady dealings and instead, reviled CREW for calling him out.
CREW's position has remained constant: Rep. Murtha's policy positions do not excuse his abusing his office to financially benefit himself, his friends and his family. The U.S. Treasury is not Rep. Murtha's personal piggy bank. Funding decisions should not be made based on who has paid fealty to Rep. Murtha, regardless of the utility and wisdom of the project. It is impossible to understand why - particularly in light of the ongoing federal criminal investigation - the House allows Rep. Murtha's conduct to continue unchallenged.
It is past time for Congress to put and end to Rep. Murtha's friends and family program. At a time when there are so many competing priorities for scarce taxpayer dollars, we cannot afford to let Rep. Murtha continue wasting our money on unnecessary projects that do little more than secure his power base. Although the House has long turned a blind eye to Rep. Murtha's feckless conduct, thankfully the Justice Department is on the case. How many more stories must appear before Rep. Murtha is forced from his perch as chairman of Defense Appropriations and denied further opportunity to feather his own nest?
Calling all HuffPost superfans!
Sign up for membership to become a founding member and help shape HuffPost's next chapter