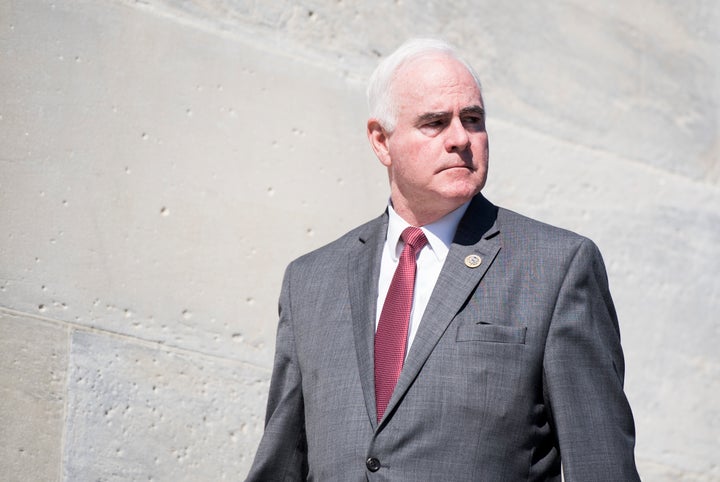 The suburban Philadelphia congressman said he would leave office on Friday and would repay the $39,000 his office used to settle a complaint filed by a former aide, whom he had referred to as his "soul mate."
"While I do believe I would be exonerated of any wrongdoing, I also did not want to put my staff through the rigors of an Ethics Committee investigation and believed it was best for them to have a head start on new employment rather than being caught up in an inquiry," Meehan said in a statement. "And since I have chosen to resign, the inquiry will not become a burden to taxpayers and committee staff."
In a resignation letter sent to Pennsylvania Gov. Tom Wolf on Friday and shared with HuffPost, Meehan said: "It has been an honor and a privilege to serve the people of the 7th District of Pennsylvania."
The congressman was forced out of his post on the House Ethics Committee in January after The New York Times reported a harassment settlement between the congressman and his former aide.
The aide, who wasn't named, and staffers familiar with the issue told the Times that Meehan had expressed interest in the aide's personal life and attempted to pursue a romantic relationship with her. His behavior toward her, they said, turned hostile after she rejected him.
The aide filed a complaint against Meehan, began working from home, and eventually quit.
Meehan entered into mandatory counseling and mediation, and eventually reached a settlement with the woman that included her signing a nondisclosure agreement. The congressman reportedly paid the $39,000 settlement using his congressional office fund, which includes taxpayer money.
Meehan has repeatedly denied any wrongdoing and does not appear to have apologized to his accuser. In an interview with The Philadelphia Inquirer in January, he admitted that he had told the aide he saw her as a "soul mate" and suggested that any negative behavior toward her stemmed from stress over the Republican effort to dismantle the Affordable Care Act.
Meehan said in a letter to his campaign chairman that he regretted using the term, the Inquirer reported.
"No characterization of the work relationship I shared with a uniquely close colleague could have been more personally harmful than when I described that co-worker as a 'soul-mate,'" he wrote.
In announcing his resignation, Meehan also thanked his wife and children for their "unwavering support."
"Though I wish my time in Congress would have finished in a more satisfying manner, I am proud of our accomplishments and thank the residents of my District for their confidence in me over the last eight years," Meehan wrote. "I recognize that there are constituents who are disappointed in the manner in which I handled the situation that lead to my decision not to seek re-election and wish I had done better by them."
Meehan said operations of his office would transition to the clerk of the House of Representatives until a successor takes office. His term would have expired in January.
Under Pennsylvania law, Wolf has 10 days to call a special election to fill the vacancy. The special election must take place at least 60 days after the seat is vacated, said J.J. Abbott, the governor's spokesman.
"Governor Wolf will make a final decision regarding the timing of a special election given Rep. Meehan's immediate resignation in short order," Abbott told HuffPost.
Meehan's resignation comes just days after Rep. Charlie Dent, another Pennsylvania Republican, announced his plans to step down amid growing ideological differences with the GOP under the current administration. Dent has yet to set a final date for his resignation but said he planned to leave his seat in May.
Popular in the Community