AMESBURY, Mass. ― Over his four years in Congress, Rep. Seth Moulton has earned plenty of praise. He upset an incumbent accused of corruption in a Democratic primary in 2014 while downplaying his heroics as a Marine in Iraq. His support from top military officials ― he served as an aide to former Gen. David Petraeus ― and willingness to buck his own's party's leadership made him the subject of national magazine profiles and 2020 presidential speculation. He was the very image of a Democratic rising star.
Now, as that willingness to criticize top Democratic officials reaches its peak with his leadership of a coup against likely House Speaker-in-waiting Nancy Pelosi, Moulton is feeling the backlash. At a town hall in his district on Massachusetts' North Shore on Monday night, activists confronted Moulton with accusations of sexism and ageism, mirroring the assault he's facing from Pelosi allies in Washington.
"I'm totally pissed off," said Linda Christian, 80, a retired lawyer who sharply questioned Moulton at the event. "I voted for him. I like this man. I think he's shown, if not animus, stupidity."
"He feels women are disposable, and elderly people are disposable," she continued.
Moulton said sticking with the party's core House leadership ― including the 78-year-old Pelosi and Reps. Steny Hoyer, 79, and James Clyburn, 78 ― would be ignoring the lessons of the Democratic wave in the 2018 midterm elections, at least as he understands them.
"The American people cried out for change in this election," Moulton said at the town hall, referencing the LGBTQ people, military veterans and people of color who won seats in the House this month. "I think if our party answers that call for change with the same status quo leadership team we've had in place since 2006, we're failing the American people."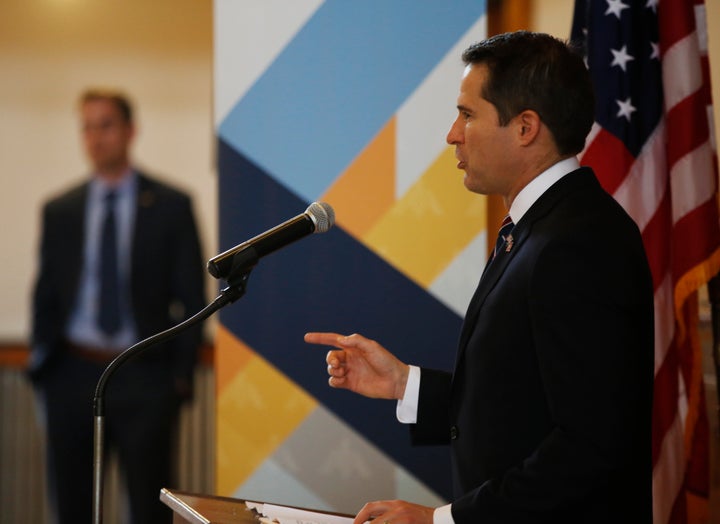 Not all of the more than 100 constituents who filled this 17,000-person city's town hall were there to lambast Moulton. A roughly equal number expressed support for his stance against Pelosi's continued leadership of House Democrats. But the hourlong event focused almost exclusively on the speakership battle ― a lone question from a city council member about sewage overflow notwithstanding ― and the fracas shows the political risk of Moulton's decision to lead the anti-Pelosi forces. Activists in his district and operatives across the country who once supported him are now talking of recruiting a primary challenger to him in 2020.
"If we could do a CrowdPac for Susan Collins' challenger, why couldn't we do one for a challenger to him?" asked Bambi Snodgrass, who helped organize the pro-Pelosi protest and said she had knocked on more than 1,000 doors for Moulton's campaigns.
Moulton and the other Democratic rebels opposing Pelosi on Monday released a letter with 16 signatories pledging to oppose their party's leader both in the Democratic caucus vote and on the floor of the House. Roughly nine other Democrats ― many of them military vets who unseated GOP incumbents with Moulton's support ― have also said they wouldn't support her. The exact size of the Democratic caucus is still uncertain, but there's likely enough opposition to cause problems for Pelosi.
While grassroots conservative activists largely backed tea party and House Freedom Caucus challenges to John Boehner's leadership, grassroots progressives like Snodgrass and the other protesters seem more likely to back the Democratic Party's established leadership. Indivisible, the network of local progressive groups that has played a major role in encouraging and organizing Democratic energy during the Trump era, endorsed Pelosi for speaker last week. That's a potential problem for Moulton and the other rebels, who largely hail from the center of the political spectrum. Just two of the anti-Pelosi letter's signatories are members of the Congressional Progressive Caucus.
The Democratic Party appears split on the Pelosi question. A CBS News poll released on Monday night found 49 percent of Democrats want Pelosi to continue as speaker, 40 percent would prefer another Democrat and 10 percent are undecided.
The divide was visible in Amesbury.
"The implication, that just because I'm a white man, that I'm being sexist just because I'm opposed to 16 years of two people basically running the Democratic side of Congress, I resent that," one man said at the town hall.
Pelosi, meanwhile, has steadfastly insisted she feels no threat from the second-term Moulton and his allies, including Ohio Reps. Tim Ryan and Marcia Fudge. "I will be speaker of the House no matter what Seth Moulton says," she boasted last week.
Democratic sources said Pelosi's team has dispatched California Rep. Ted Lieu, a veteran and Pelosi ally, to lobby the freshmen military veterans who Moulton helped recruit, including Reps.-elect Jason Crow of Colorado and Jared Golden of Maine.
Moulton expressed confidence the newly elected members would keep their campaign trail promise not to back Pelosi, and predicted a quiet plurality of the Democratic caucus would prevent her from rising to a second stint as speaker.
"There's a lot of people trying to figure out what to do," Moulton told reporters after the Amesbury event. "And a lot of people are staying quiet because they don't want to have a contentious town hall like this one."
Support HuffPost
The Stakes Have Never Been Higher
Popular in the Community