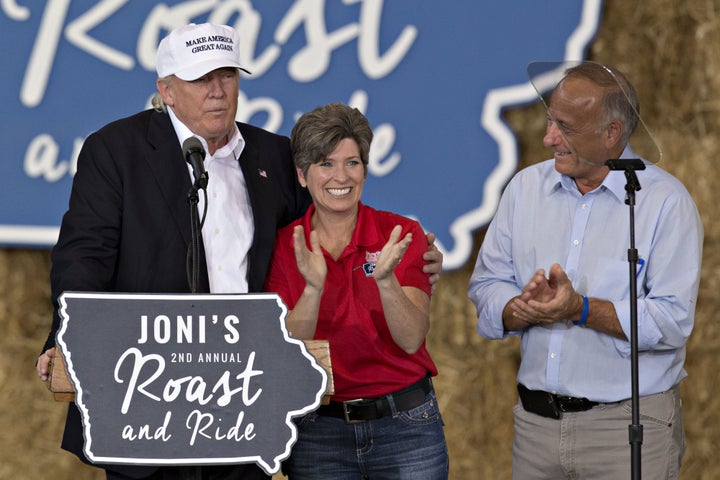 Rep. Steve King (R-Iowa) is finally facing fallout from his party over the racist comments he's made for years ― but notably quiet in the GOP's finger-wagging at King is President Donald Trump, who is no stranger to public, unabashedly racist commentary and action.
But even amid his campaign and up until now, he's been plenty racist. Here's a long but non-definitive list:  
He called Haiti, El Salvador and African countries 'shitholes'
In an Oval Office meeting with lawmakers last January, he bemoaned the idea of giving immigration protections to people from those and other countries.
"Why are we having all these people from shithole countries come here?" he said.
He also said immigrants from Haiti 'all have AIDS'
In 2017, he said that 15,000 immigrants from Haiti "all have AIDS" and that Nigerian immigrants would never "go back to their huts" once they laid eyes on the United States, according to The New York Times. 
He led the Barack Obama birther movement
Trump began sowing doubts about President Barack Obama's citizenship as early as 2010, and in 2012 he said Obama's Hawaii birth certificate was a "fraud," adding fuel to a racist conspiracy theory that would stick with Obama throughout the rest of his presidency.
He attacked Muslim Gold Star parents
"Let me ask you, have you even read the U.S. Constitution?" Khan asked Trump as he pulled a copy of the document from his jacket pocket and held it up. "I will gladly lend you my copy," he said in front of the Democratic National Convention.
Khan's wife, Ghazala, didn't speak during the address, and Trump reveled in the opportunity to get very Islamophobic about it.
"If you look at his wife, she was standing there. She had nothing to say. She probably, maybe she wasn't allowed to have anything to say. You tell me," Trump said in an interview with ABC News.
He loves to focus on crime as it pertains to minorities...
He regularly and falsely exaggerates crime statistics in urban cities and can't get enough of Chicago crime talking points. He parrots racist and false murder statistics and images on Twitter, especially those that feature "black-on-white crime." He makes false claims about incidents of radical Islamic terrorism. He conflates Mexican immigrants with gang members. The list goes on.
... but he doesn't love to focus on white supremacy
In fact, he excuses it. He may never live down the time he said there were "very fine people on both sides" of the deadly neo-Nazi rallies in Charlottesville, Virginia, in August 2017, but he's always had trouble disavowing white supremacy. As The Washington Post reported, he's refused since the 1990s to condemn former Ku Klux Klan leader David Duke, and in the case of Steve King, he said he hasn't been following the news.
He is also very much NOT a fan of protests against racism
His response to mostly black players in the NFL protesting racism was: "Maybe you shouldn't be in the country." And at a rally in Huntsville, Alabama, he said: "Wouldn't you love to see one of these NFL owners, when somebody disrespects our flag, to say, 'Get that son of a bitch off the field right now. Out. He's fired. He's fired.'" Black Lives Matter, Trump believes, incites police killings.
He said a judge was biased because 'he's a Mexican'
During his campaign, Trump said federal Judge Gonzalo Curiel, who was presiding over a class-action suit against Trump University, would hand down "unfair rulings" because he was Mexican. Curiel, a U.S. citizen, was born in Indiana.
"He's a Mexican," Trump said to CNN at the time. "We're building a wall between here and Mexico. The answer is, he is giving us very unfair rulings — rulings that people can't even believe."
Don't even get us started on his racist dealings with immigrants
Here's a smattering of some of his racist hits against immigrants:
Hillary Clinton noted he once called a Latino Miss Universe 'Miss Housekeeping'
He also called Sen. Elizabeth Warren "Pocahontas" as an insult in reference to her family's claims about a distant Native American ancestor.  
He often refers to the 'low IQ' of black people
Late last year, after NBA star LeBron James sat down for an interview with CNN's Don Lemon, Trump called both of them "dumb."
"Lebron [sic] James was just interviewed by the dumbest man on television, Don Lemon," Trump tweeted. "He made Lebron look smart, which isn't easy to do. I like Mike!"
Lemon, in response, didn't mince words: Trump was being racist, and he knew it.
"The president has called a lot of people stupid," he said on CNN. "Some of those people are white. But I would just like to note that referring to an African American as dumb — remember this is America — is one of the oldest canards of America's racist past and present: that black people are of inferior intelligence."
Trump has also said Rep. Maxine Waters (D-Calif.) had "low IQ."
"Congresswoman Maxine Waters, an extraordinarily low IQ person, has become, together with Nancy Pelosi, the Face of the Democrat Party," he tweeted last June. "She has just called for harm to supporters, of which there are many, of the Make America Great Again movement. Be careful what you wish for Max!" 
'Look at my African-American over here.'
Calling all HuffPost superfans!
Sign up for membership to become a founding member and help shape HuffPost's next chapter