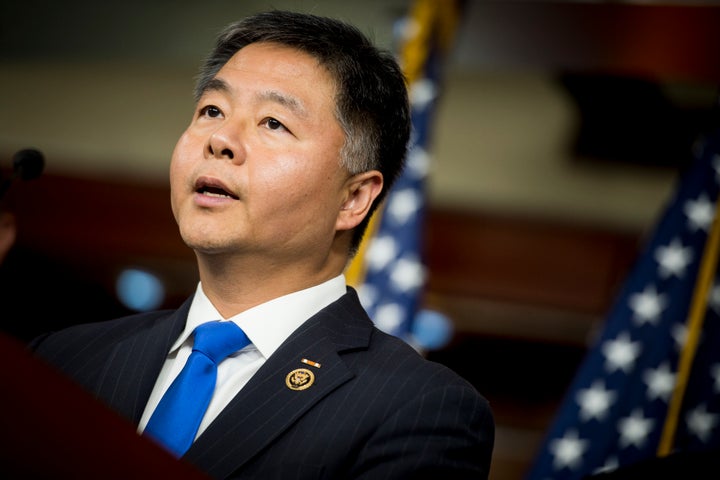 Rep. Ted Lieu (D-Calif.) vowed on Monday that if President Donald Trump's expanded FBI investigation of sexual assault allegations against Supreme Court nominee Brett Kavanaugh isn't adequate, the House Judiciary Committee, on which he sits, would launch a probe if Democrats take the House in this fall's elections.
"If we flip the House, we gain subpoena power. We would certainly interview all of Judge Kavanaugh's accusers," Lieu said in an interview aired on SiriusXM Progress. "It depends on what the FBI investigation does."
Lieu, a former Air Force prosecutor, said statements by Kavanaugh's classmates who've come forward in the media claiming he misled the Senate Judiciary Committee about his heavy drinking in college ― even Trump acknowledged on Monday that Kavanaugh had a "difficulty" with drinking as a teenager ― are crucial to the FBI investigation.
"I believe the FBI would have to interview witnesses who contradict Kavanaugh on drinking," Lieu said. "Senator Jeff Flake said that if he lied under oath he should not be confirmed. The FBI should interview those people to see if he perjured himself."
But Lieu also believes investigating Kavanaugh's drinking is critical to helping corroborate the sexual misconduct allegations raised by three women: Christine Blasey Ford, Deborah Ramirez and Julie Swetnick.
Former Yale classmate Liz Swisher, a Seattle medical doctor, told CNN she drank with Kavanaugh often and that he "drank heavily" and was a "sloppy drunk." Yale classmate Chad Luddington issued a statement to the media in which he said he was "deeply troubled by what has been a blatant mischaracterization by Brett himself" about drinking, which Luddington called "frequent" and "heavy." He said that Kavanaugh, after drinking, was "often belligerent and aggressive," would "slur" his words and would be seen "staggering."
"All the allegations against Kavanaugh have one fact that's the same, which is that he was inebriated and it was related to his drinking," Lieu said in the interview, noting that Kavanaugh in his testimony before the Senate Judiciary Committee repeatedly denied drinking heavily or to the point of blacking out.
"Kavanaugh wasn't just lying about some random thing, the score of a baseball game or something like that," Lieu said. "He was lying about a central fact that would corroborate parts of the allegations of all three woman. It is central to those allegations."
Lieu also said that last week's hearing, at which Kavanaugh angrily denounced Democrats for the inquiry ― which he said was in part "revenge" for "the Clintons" ― showed that he's not qualified to be on the Supreme Court.
"There are many other judges the president could nominate that would have better temperament, that did not lie under oath and that are not so fully partisan as Judge Kavanaugh," Lieu said.
The mention of the Clintons, among other "conspiracy theories," Lieu said, was "really quite bizarre."
"A Supreme Court justice," Lieu added, "is not supposed to be the mouthpiece for Donald Trump."
Popular in the Community