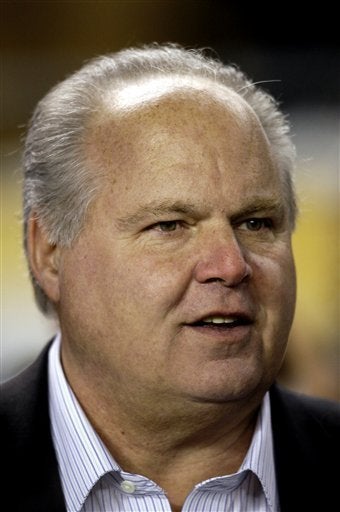 UPDATE 4/21/09: Less than a week after calling conservative radio host Rush Limbaugh a mere "entertainer," the apology from Rep. Todd Tiahrt (R-Ks.) has arrived. Not only did Tiahrt deny any attempt to denigrate Limbaugh, Tiahrt's spokesman called Limbaugh a "great leader."
"The congressman believes Rush is a great leader of the conservative movement in America -- not a party leader responsible for election losses," the spokesman said, according to the Wichita Eagle. "Nothing the congressman said diminished the role Rush has played and continues to play in the conservative movement."
Congressman Todd Tiahrt, Republican of Kansas, might have stepped in it this week. In a meeting with the editorial board of the Kansas City Star, Tiahrt was asked if conservative talk radio king Rush Limbaugh is the de facto leader of the Republican party.
Similar remarks by Republican politicos have led to abject groveling at the throne of Rush.
Republican National Committee Chairman Michael Steele insisted that Limbaugh was not the de facto leader of the Republican party, calling Limbaugh's show "ugly" and "incendiary." On his show two days later, Rush took Steele to the woodshed, and Steele apologized before the day was out.
The Democratic Congressional Campaign Committee set up an "I'm Sorry, Rush" website with an apology generator. We'll see if Tiahrt changes his tune and joins the list.
Popular in the Community