 Rep. Xavier Becerra (D-Calif.), a key negotiator on immigration reform, said he and a bipartisan group of House members have been having "very quiet" conversations on immigration reform.
Becerra said the group hasn't been public about these conversations and their efforts to move forward with immigration reform in the House. Instead, they have been meeting behind closed doors to discuss how they can work together in a bipartisan fashion to "break through the barriers that are keeping us from having a workable immigration reform."
"I know that I and others have been hoping for a long time to get to a point where we can pass a smart, sensible bill to fix our broken immigration system," Becerra told VOXXI. "But at this stage, I'm not saying much more than that simply because I want to see something get done, and I think it's important that we try to do everything we can to get it done."
The Democratic congressman added that he wouldn't discuss any further details until House members are ready to vote to pass an immigration reform bill.
"When we—in the House—are ready to vote to pass an immigration reform bill, it will be a great time to have conversations about how we got the 218 votes that we need," he told VOXXI. "Until then, the work is getting to 218, and anything that diverts us from that task I think is not worth exploring."
Immigration reform: 20 years in the making
Becerra arrived in Congress in 1993 with the mindset of passing legislation that would fix the nation's broken immigration system.
Now, 20 years later, he said the landscape for passing an immigration reform has never been as promising as it is today. There is bipartisan support and President Barack Obama has made passing an immigration reform a top priority.
"Today I see a climate far more favorable to a sensible fix of our broken immigration system than I've ever seen before," he told VOXXI.
But a lot has happened in the last two decades to get to this point. From seeing numerous failed attempts to pass an immigration reform to seeing partisan legislations that would round up families and deport children, Becerra has seen it all.
"Over the years, when it comes to immigration policy, we have seen the good, the bad and the ugly," he said, adding that there have also been several milestones in the battle for immigration reform.
Overturning of Prop. 187 seen as first milestone
In 1994, Proposition 187 was introduced in the California State Assembly, where Becerra served one term before heading to Congress, and voters approved it. That same year, former Republican California Gov. Pete Wilson made Proposition 187 a key issue in his re-election campaign.
"He posted nasty commercials on television across the state talking about how 'they keep coming,'" Becerra said about Wilson. "He showed images of individuals crossing the freeway, running and making it look like all those who were in our country as immigrants were criminals, drug traffickers and un-American."
Many Latinos mobilized and fought back against Proposition 187 and politicians who supported the measure. Several lawsuits were also filed in federal court against it, and a judge eventually declared it unconstitutional.
Becerra noted that California has "changed dramatically" since then. Today, Latinos in California are more involved in the political process and the state is decidedly blue. He added that with the overturning of Proposition 187, "We saw that this country and our judicial system worked even for the most disadvantaged of us."
2006 marches helped change course on immigration reform
Another milestone Rep. Xavier Becerra identified are the 2006 marches that took place in response to a proposed legislation in Congress that would have raised penalties for undocumented immigrants and classified them as felons.
The people who participated in the marches sought a rejection of the bill and called for an immigration reform that would pave a path to citizenship.
The marches, most of which were peaceful, ranged from a few hundred to hundreds of thousands of people. The largest one occurred in Los Angeles in March 2006—it reached 500,000 people.
Becerra told VOXXI the "greatest attribute" of the marches wasn't so much the message it communicated in the halls of Congress.
"It was the message it communicated to our families and neighborhoods back home," he said. "It sent the message that we could determine the course of immigration."
Becerra added that the marches also "gave people a sense of empowerment" and made people believe they could change the debate over immigration reform "no matter who you were, what your income was or how well you spoke English."
The marches also incited bipartisan support for an immigration reform bill introduced in 2006. Among the bill's sponsors were senators John McCain (R-Ariz.) and Ted Kennedy (R-Mass.), both of whom had introduced a similar immigration reform proposal in 2005.
The 2006 immigration reform bill passed in the Senate but died in the House. Similar bills were introduced in 2007 and in 2010 but neither passed as bipartisanship for immigration reform declined.
Inadvertently, the marches also fueled the growth of the Minutemen Project, an advocacy group that patrolled the U.S.-Mexico border. The group rapidly increased its membership and brought attention to a perceived need for more border enforcement, which became a common theme in the debate over immigration reform in 2010.
Biggest milestones: Dreamers and the Latino Vote
By 2010, calls for more border enforcement polarized the immigration debate, and there was little bipartisan support for the immigration reform bill introduced by senators Robert Menendez (D-N.J.) and Patrick Leahy (D-Vt.).
Despite these failed legislations, Becerra said there are two significant milestones that "will go down in history" as major events that helped renew hope for immigration reform.
The first milestone he described is "the courage of the Dreamers to come forward and publicly say that they were undocumented youth."
"Essentially, they dared our government and our society to kick them out, and it forced America to face the reality that the American people had been tangling with for decades," Becerra told VOXXI.
"I think that for the first time, Latinos could decidedly say that our vote made a difference and that even our worst enemies had no choice but to admit that Latinos decided who would be president of the United States," he said.
Becerra is optimistic about passing immigration reform
Becerra said all these milestones—the overturning of Proposition 187, the 2006 marches, Dreamers coming out as undocumented and the Latino vote—led to this year's momentum for immigration reform.
"I think there is good will to try to get this done," he said of a bill that would reform the nation's immigration system. "The only question left standing is whether there is sufficient good will on the Republican side to pass immigration reform this year."
And as the Senate "moves quickly and aggressively" to introduce and pass a bipartisan immigration reform bill in the next few weeks, Becerra said he hopes that in the House "there are enough individuals who want to move in that same spirit."
Support HuffPost
Every Voice Matters
Before You Go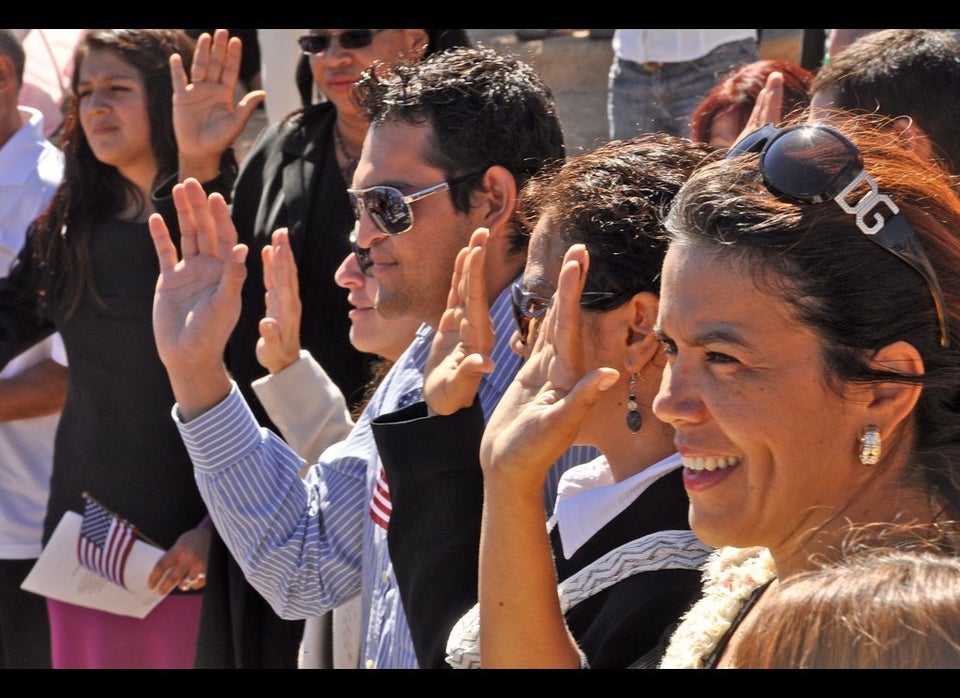 10 Major U.S. Federal Immigration Laws
Popular in the Community