Americans are not fond of this thing called the Affordable Care Act, but as the polls keep showing, they like a lot of what it does. Therein lies the dilemma for those pushing its repeal.
Faced with the overall question, 51 percent of Americans said they want to partially or completely repeal the health care law, according to a new Morning Consult/Politico poll released Wednesday. 
Respondents were also asked about nine different elements of Obamacare, from coverage of pre-existing conditions to expansion of Medicaid. The majority wanted to keep every aspect except "requiring nearly all Americans to have health insurance or else pay a fine." Fifty-seven percent said that element should be repealed.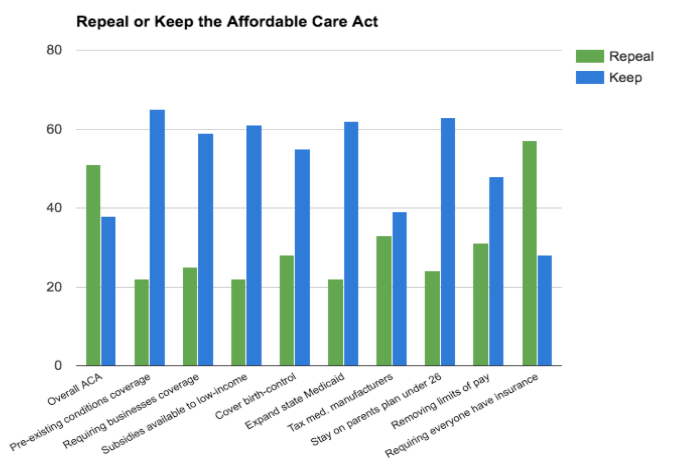 Even among those who voted for President Donald Trump, there is widespread support for many of the health care law's individual provisions. Eighty-one percent of Trump voters said Obamacare should be partially or completely repealed. But the majority said they would keep all the specific elements highlighted except "requiring health insurance companies to cover prescription birth control," "removing lifetime and annual limits on the amount of money health insurance companies can pay out for an individual's care," and requiring nearly all Americans to have insurance.
Another recent Morning Consult/Politico poll found that one-third of Americans still don't know that Obamacare and the Affordable Care Act are the same thing. This ongoing confusion has led others to wonder how much of the opposition to Obamacare is based on its association with the previous president and how much is dislike of what the law actually does.
The national online survey from Morning Consult/Politico polled 2,013 registered voters Feb. 16-19. It has a margin of error of plus or minus 2 percentage points.
Calling all HuffPost superfans!
Sign up for membership to become a founding member and help shape HuffPost's next chapter