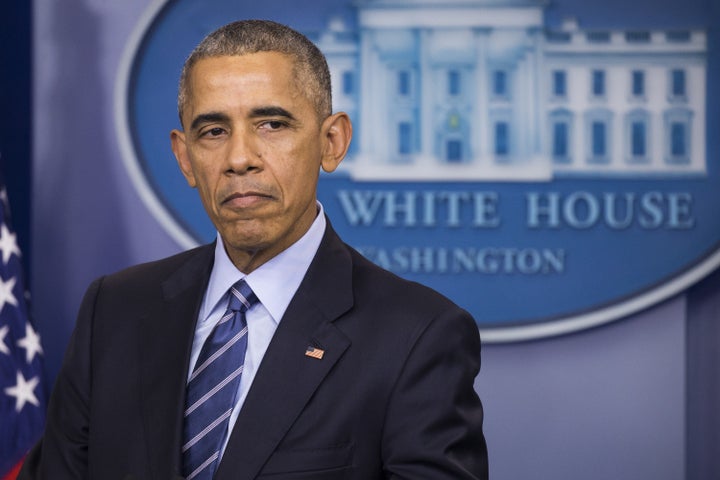 Views of President Obama's signature health care law remain divided. The Democratic Party has a challenging midterm season ahead of it. And few Americans want Donald Trump to end sanctions against Russia. This is HuffPollster for Friday, January 6, 2017.
PUBLIC WARY OF REPEALING OBAMACARE WITHOUT A REPLACEMENT - Jonathan Cohn: "Americans have complicated feelings about Obamacare, according to a new poll, with voters divided over whether to keep the law, but only a minority supporting the Republican strategy of trying to eliminate it quickly. The poll, which the Henry J. Kaiser Family Foundation conducted in December, finds the public almost evenly split on whether to repeal the Affordable Care Act ― 49 percent want repeal, 47 percent do not. Those numbers have a partisan tint, as most Republicans favor repeal and most Democrats oppose it. But even many Republican voters seem unenthusiastic about eliminating the law before Congress crafts a replacement, as House Speaker Paul Ryan (R-Wis.) and other GOP leaders have proposed. Overall, according to the poll, just 20 percent of Americans say that is their preferred strategy for eliminating Obamacare. The survey also says 62 percent of Americans think it's important to guarantee access to health care, even if that means bigger government or more federal spending." [HuffPost]
2018 IS LIKELY TO POSE A CHALLENGE FOR DEMOCRATS - Nick Bayer: "The outcome of the 2016 election shocked and worried Democrats across the country. Unfortunately for them, there may be worse to come in the 2018 midterm elections. In less than two years, 33 Senate seats will be up for grabs. Senate Democrats, armed with the filibuster, are the last line of defense against incoming President Donald Trump and the congressional Republican agenda. That means the electoral stakes are high in 2018, and Democrats must fight to keep up their numbers. The picture looks reasonably sunny for Republicans, who have only eight Senate seats on the ballot next year. Six of them (Mississippi, Nebraska, Tennessee, Texas, Utah and Wyoming) are likely safe for the GOP. Democrats, on the other hand, have 23 Senate seats to defend ― 25 if you count the independents who caucus with the Democrats….The bottom line for 2018: Democrats likely won't take back the Senate majority, but Republicans probably won't reach the 60 seats they need to block a Democratic filibuster, either." [HuffPost]
Demographic shifts aren't necessarily in the Democrats' favor - Richard Alba: "Despite winning a declining share of the white vote in recent elections, Democrats have remained competitive by relying on large majorities of minority voters. And in a diversifying America, where the share of the white population is falling, many progressives believe that it is only a matter of time before demographic change leads to a natural Democratic political majority. But this hope of an inexorable Democratic tide based on demography could easily be wrong...First, the forecast of a majority-minority society in the near future is more problematic than has been commonly assumed. Second, the progressive hope relies on precarious assumptions about the future behavior of minority voters. In particular, recent patterns of assimilation, especially among U.S.-born Asians and Latinos, complicate the white/minority division of the population. These patterns also suggest that assimilating voters may behave politically more like whites than the conventional wisdom allows. Without winning a larger share of the white vote, optimism about future Democratic political strength may be premature." [538]
AMERICANS WANT TRUMP TO KEEP SANCTIONS AGAINST RUSSIA - HuffPollster: "Americans approve of sanctions against Russia imposed by President Barack Obama, and want to see President-elect Donald Trump keep them in place, a new HuffPost/YouGov survey finds….Forty-two percent of Americans say Trump should keep the sanctions against Russia, with 26 percent saying he should remove them. Opinions are divided along partisan lines, and even more sharply along the 2016 election fault lines. People who voted for Hillary Clinton are 66 percentage points more likely than those who voted for Trump ― 82 percent to 16 percent ― to say that Trump should keep the sanctions against Russia in place. The gap between Democrats and Republicans on maintaining the sanctions was 41 points." [HuffPost]
HILLARY CLINTON'S CONTROVERSIES DOMINATED ON TWITTER - Natalie Jackson: "Clinton's use of a private email server during her time as secretary of state, and the hackings and subsequent WikiLeaks releases that targeted her campaign and the Democratic Party, dominated Twitter discussions about the presidential election during 2016, according to a study put out by the data and polling firm Echelon Insights. (Echelon was founded and is run by a Republican pollster and a Republican strategist.) Echelon compiled data from nearly 2 billion tweets about major news stories in 2016, many of which were about the presidential election. They tracked tweets that mentioned candidates as well as those that mentioned election-related controversies. Trump was the candidate mentioned more often, but it was Clinton's issues that took center stage among the controversies….The most-discussed issue by far was that of the email hacks and WikiLeaks releases that targeted Democrats and Clinton's campaign. Twitter users fired off more than 33 million tweets on this subject, more than six times the number of tweets recorded on Trump's biggest scandal (the infamous "grab them by the pussy" tape)." [HuffPost]
HUFFPOLLSTER VIA EMAIL! - You can receive this daily update every weekday morning via email! Just click here, enter your email address, and click "sign up." That's all there is to it (and you can unsubscribe anytime).
FRIDAY'S 'OUTLIERS' - Links to the best of news at the intersection of polling, politics and political data:
-German Lopez thinks racism and sexism were more predictive of support for Donald Trump than economic discontent. [Vox]
-Pew Research finds little public support for overturning Roe v. Wade. [Pew]
-Jeffrey M. Jones writes that many Americans are skeptical of Trump's abilities to handle presidential duties. [Gallup]
-Antonia Blumberg notes that the incoming Congress is far more Christian than America as a whole. [HuffPost]
-Mona Chalabi estimates how long it will take American adults to give up on their New Year's resolutions. [538]
-Craig Volden and Alan Wiseman argue that bipartisanship still works in U.S. politics. [Washington Post]
Popular in the Community