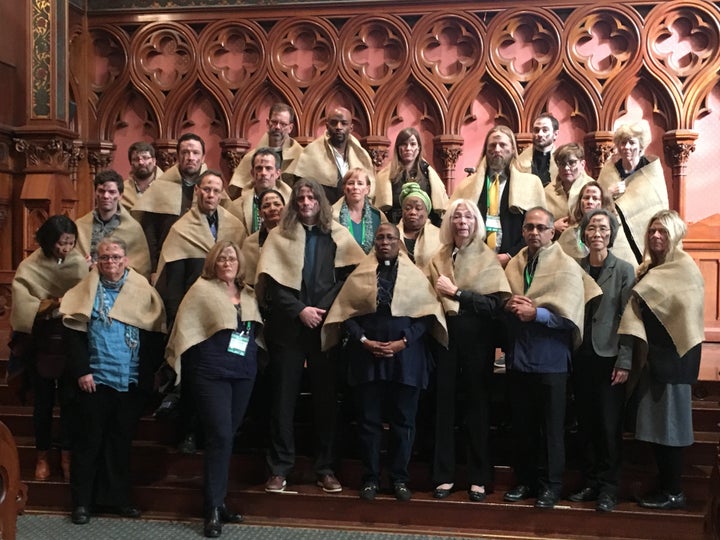 The Boston Declaration, condemning the abuse of the Christian faith by many conservatives today, was just written, signed and released by over 300 hundred Christian theologians attending the American Academy of Religion and the Society of Biblical Literature, an annual meeting of nearly 10,000 professionals in religion.
In a dramatic press conference at Boston's famous Old South Church, where many dressed in sackcloth and ashes to call for repentance and change in Christianity in the United States, the presenters were clear that white American Evangelicalism is in a crisis, a crisis of its own making. It has abandoned the Gospel of Jesus Christ.
"Is Roy Moore a hill on which Evangelicals are prepared to die? As for me and my house, 'Hell no, we won't go,'" said Evangelical theologian Rev. Dr. Peter Heltzel, Associate Professor of Theology at New York Theological Seminary, asking the crisis question and answering it. "During difficult days in our nation, The Boston Declaration calls Christians to follow the Jesus Way, bearing prophetic witness to Christ through fight racism, sexism, poverty and all forms of oppression."
One of the key organizers of The Boston Declaration, Rev. Dr. Pamela Lightsey, Associate Dean at Boston University School of Theology, contrasted the Gospel teachings with what is being peddled as Christianity today in some conservative circles, both religious and political. She said:
We are here because Jesus taught us to "love our neighbor as ourselves." We are here because we take the parable of the Good Samaritan to heart. We are here because we refuse to allow Christianity to be co-opted by the likes of people who support abuse of women, the closing of our nation to the immigrant in need and the normalizing of lie after lie after lie.
Finally, we are here because we believe our nation yearns to hear from us this day and to watch for how our commitment as Christian theologians continues into the election season of next year.
Rev. Dr. David Wilhite, professor of theology at George W. Truett Theological Seminary at Baylor University, said with great intensity that "Evangelical is a category I can't use any more. Evangelicals have come to misrepresent Christianity. The heart of Evangelicalism is keeping the Gospel call at the heart of all we do."
Dr. Wilhite noted that Evangelicals "are supposed to have a come to Jesus moment." And this time in American life, he argued, is clearly such a moment. "Evangelical Christianity has become white, male Christianity. And for this we need to repent."
Rev. Dr. Reggie Williams, professor of ethics at McCormick Theological Seminary, talked of the heavy hearts carried by himself and other African-Americans in this current moment. "These are sinister times, but they are not new. As a black person educated in Evangelical Christian institutions, I am familiar with a Christianity that has a history of ignoring my being, and providing theological justification for my non-being."
But, he emphasized, what is "new in my lifetime to have such an over embrace of it." How can people say it is Christianity to "proclaim good news to the rich or push the differently embodied person to the margins? Now is the time to follow Jesus the poor Jewish prophet whose teaching of the Kingdom was the inspiration for the Boston Declaration."
When we have torch carrying right-wing radicals marching around in Charlottesville, Virginia yelling "blood and soil!" and "Jews will not replace us!" it is time to confront this kind of Nazism with the historical courage of those who confronted the Nazis in the 1930s in Germany.
German Christian theologians and pastors spoke out against the corruptions of the Nazi regime that was using every possible deception to wrap itself in the sacred. It was a travesty. Some of them paid for that courage with their lives.
We need that kind of courage today. I said:
Dietrich Bonhoeffer, the German Christian pastor who was arrested and ultimately executed by the Nazis for his opposition to Hitler, contrasted what he called "cheap grace" with the costly grace of the Gospel. "Cheap grace means grace sold on the market like cheapjacks' wares. The sacraments, the forgiveness of sin, and the consolations of religion are thrown away at cut prices. Grace is represented as the Church's inexhaustible treasury, from which she showers blessings with generous hands, without asking questions or fixing limits."
The Christianity Bonhoeffer denounced is the Christianity we denounce today. It is a Christianity that literally enables hate, hate for people of color, for immigrants, for those of other religions, for gay, lesbian, bisexual and transgender human beings, for women and girls, for the poor and the most vulnerable among us.
And why do these so-called Christians do this? Not out of obedience to the teachings of Jesus, because Jesus taught the exact opposite of their hate-mongering. No, they do it for power, for political gain.
Jesus asks, "What does it profit you to gain the whole world and lose your soul?" Mark 8:36
We are not here merely to denounce, however. The most important thing we can do as Christian theologians is announce the good news of the Gospel. The good news is the radical inclusivity of God, for God so loved the world. Not just some in the world who are white, or rich, or male or heterosexual. God loved the whole world of animals and plants and the entire ecosystem that is a victim of this same rapaciousness and nearly mindless drive for political domination.
The good news, and it is very good news, is an invitation to turn away from greed and turn toward love of neighbor.
Turn away from hate and turn towards love. It's actually more fun here in the circles of radical hospitality.
Jesus said, "Love one another." And we say, "Amen."
Support HuffPost
The Stakes Have Never Been Higher
Related
Popular in the Community