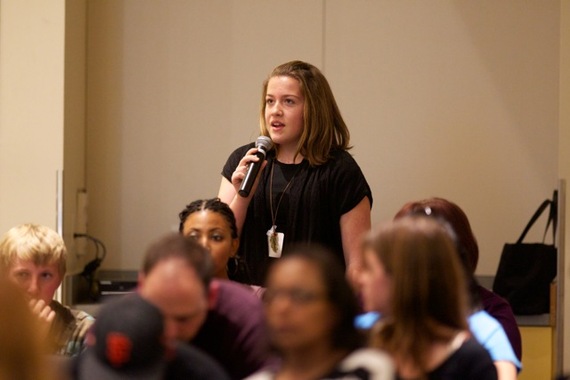 Since the release of Race to Nowhere, I've traveled across the country, hearing stories from parents, educators and students who struggle with the pressures of our achievement-obsessed education system and culture. However, over the last couple years, I've noticed an inspiring shift. A growing number of these stories are coupled with examples of caring communities disrupting the status quo and seeking fresh solutions toward a saner education experience.
Consider the community at Irvington High School in Fremont, Calif. After screening Race to Nowhere, Assistant Principal Jay Jackson wrote that he could see the damaging patterns portrayed in the film playing out at his school. Even as test scores rose, so did mental health problems, cheating, and pressure. "For most of our kids," he wrote, "schools seem to be much less about learning and much more about what their transcript looks like."
Rather than accept these patterns as inevitable, members of the Irving High School community came together to develop the EdJOYcation Task Force with the goal of injecting a little more joy into the school experience. This initiative brought together students, parents, and teachers to pitch creative ways to reduce stress in school life -- such as music-friendly study periods, collaborations with local meditation centers, seminars on reducing stress, and the creation of a Stress-Free Finals Week.
"I think the biggest benefit from this task force is the community it creates," wrote Student Commissioner Thao Le. "Those of us who have seen the dark side of our achievement culture now have a place for our voices to be heard and our ideas to become actions."
Sometimes the biggest changes can start with a single question. At Emery Weiner School in Houston, Texas, after a Race to Nowhere screening spurred a group discussion on the critical sleep needs of adolescents, a parent asked the school administrator if he could consider later start times.
"I basically gave the classic administrative answer that I'm stuck. I can't do it because I'm just one school," said school head Stuart Dow.
But the parent asked again, "You can't or you choose not to?"
The question stuck with Dow. Upon reflection and a little negotiating with his athletic director, he was able to push start times back 45 minutes, without losing after-school sports. At Emery Weiner, one question led to one major change that means significant improvement in the daily lives and personal health of students.
Stories like this are a powerful reminder that community conversations are the starting points for meaningful change. That's why we are launching the Replace the Race campaign in March: a month-long initiative to help sustain conversation and inspire action in your community. We are providing members of our network with tools to help facilitate meaningful discussions about the future of education, including an interactive presentation specifically designed to support group reflection. We're also including exclusive clips from our forthcoming documentary that follows the journey of schools across the country on a mission to reimagine what's possible in American education.
Member-hosted forums are crucial to the success of this campaign. More than policymakers and testing companies, we have the power to shape the education culture we want from the ground up. The greater the participation, the more powerfully our message will be heard: it's time to bring sanity and humanity back to schools!
Calling all HuffPost superfans!
Sign up for membership to become a founding member and help shape HuffPost's next chapter