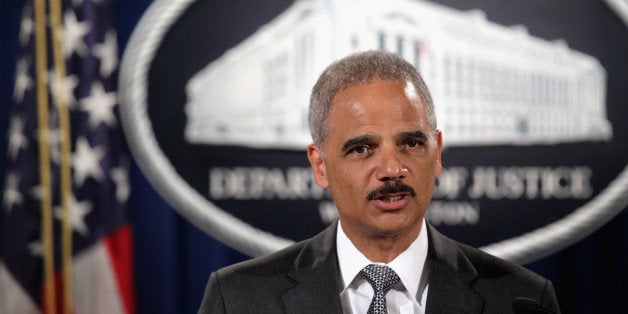 Almost as quickly as news broke that Attorney General Eric Holder was resigning, people began assessing and critiquing his record. They speculated over his replacement, and will likely continue doing so until an official announcement is made. But amid all the noise, it's important that we do not lose sight of one undeniable reality: Eric Holder has been the best Attorney General this nation has ever had in the area of civil rights and voting rights. I challenge anyone to show me an AG who has done more in this realm than Holder. The bottom line is you can't; his work is simply unmatched. Our job is to ensure that his efforts continue on with the next AG, whoever he or she may be. We in the civil rights community must strongly advocate maintenance and continuance of a Justice Department that will fight aggressively in these areas.

Throughout his tenure, Holder has consistently lived up to the notion of advancing civil rights in this country in an effort to right some of our past -- and present -- wrongs. No other AG made the moves he did in terms of addressing sentencing disparities, unfair mandatory sentencing laws and other discriminatory policies. No other AG combatted efforts towards voter suppression with lawsuits against new voter ID laws and an end to early voting. No other AG aggressively fought for marriage equality, and against gender inequality as he has. And no other AG, including Bobby Kennedy, personally went to the scene of a civil rights complaint as he did in Ferguson, MO. The list goes on; his track record speaks for itself.

Holder may be questioned in other areas, such as civil liberties, but in those areas, he still stands without peer in my judgment. The reality is that his commitment towards justice and equality has been unrivaled, and it is the same reason why many on the right have attacked him continuously throughout his time as AG. The issue we confront before we get to who will replace Holder is to prevent his achievements in the areas of civil rights and voting rights from being dismissed, or altered somehow. The governing principle that this Administration has staked out under Holder must be continued. The who should come from the what (meaning policies); the what should not come from the who.

When Holder's resignation went public, we immediately contacted the White House's Office of Engagement to encourage that whoever is advising the president on a replacement consider not just the who, but the what. We are sure that advocates in labor, women's rights, the business community and other interest groups will be weighing in their advice as we weigh in ours to whatever team of advisors will engage in deliberations with the president. As a civil rights leader, it is my duty to advocate on behalf of the voiceless and push for a new AG that will carry on Holder's immense work in this space.

Ironically, I was holding a press conference at the National Press Club with the parents of Michael Brown (who was killed by police in Ferguson), and the mother of Eric Garner (who was killed by police in Staten Island from an apparent illegal chokehold), when we received word of Holder's resignation. It was Holder that persistently dealt with policing matters, and just this month even announced a new federal initiative to study racial bias and to build trust between law enforcement and communities. Families like that of Michael Brown, Eric Garner and so many others don't know about lists of potential replacements; they just pray that justice and reform as directed from the top continues to impact police departments and neighborhoods around the country.
They just hope that whatever leanings the Justice Department began to show in dealing with police accountability will not be displaced in a Beltway shuffle of who replaces Eric Holder.
Popular in the Community