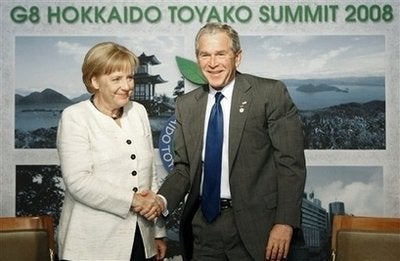 German papers find more evidence that the Bush administration voiced strong opposition to an Obama speech at the Brandenberg Gate. Ben Smith reports:
Deputy Treasury Secretary Robert Kimmitt told the tabloid Bild -- the biggest paper in the country -- that "it would be nice if the German government would focus on strengthening its contacts to us rather than already beginning to look for our successors."

Also, a few readers wrote in with more precise translations of the word "angeblafft" in that Frankfurter Allgemeine Zeitung piece, which -- beyond the point previously translated -- said Merkel's foreign policy adviser Christoph Heusgen was "taken to task," "snapped at," or "berated" by a Bush aide.

Thursday, Der Spiegel reported that Bush administration officials privately told the German government that they don't like the idea:

The respected Frankfurter Allgemeine Zeitung newspaper reported this week that a member of the Bush delegation approached Merkel's foreign policy advisor, Christoph Heusgen, at the G-8 summit in Japan to discuss misgivings about Obama's planned speech. The government is also acting out of respect for Republican presidential candidate John McCain, who has long enjoyed strong ties to Germany and good personal relationships with a number of high-level government officials in Berlin.
If Bush officials are privately trying to nix a speech that would give Obama a major boost it's an interesting development and raises more questions, such as whether the administration is possibly letting efforts to help McCain intrude on back-channel diplomacy in other areas.