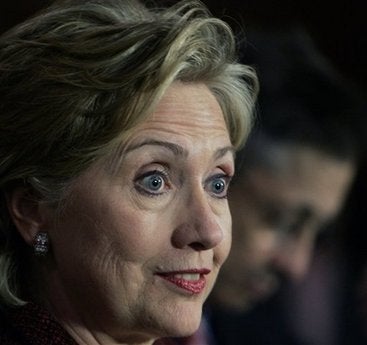 In the New York Review of Books, Elizabeth Drew sheds some more light on the behind-the-scenes wrangling between Hillary Clinton and Barack Obama over the Secretary of State post:
Obama's meetings with Hillary Clinton and John McCain about playing important roles in his presidency indicated his imagination and his shrewdness, although sources close to Obama say he did not offer her the job of secretary of state when they met. He had said during the campaign that he wanted various views in his government, and in turning to his own former competitors, Obama was at the same time magnanimous and seeking to keep them close. Both were in a position to cause him difficulty in the Senate--Clinton, in particular, had kept her constituency intact (through HillPAC) and was planning her own Senate agenda, including her own health care program, no matter what Obama proposed. But Clinton lacks the seniority, and therefore a committee position from which to get her proposals taken up by the Senate. (She tried to get a special subcommittee appointed, but Edward M. Kennedy, who has his own health care plan and is chairman of the committee with jurisdiction over the issue, blocked her, offering her later a role concerning health insurance.) McCain had indicated that he wanted to help Obama in the Senate, and by taking him up on it, Obama has both flattered and coopted him.

Mrs. Clinton's and her closest advisers' turning a suggestion by the President-elect that she might, among other things, head the State Department into an "offer" and reports that she was agonizing over whether to accept it, did not please officials in Chicago, some of whom hoped that issues over disclosure of Bill Clinton's post-presidential record might block the appointment. But the former president's camp blocked that by promising to cooperate with requests for information and to accept limits on his activities, including clearance of speaking engagements abroad. Statements by the Hilary camp on November 21 saying that "she's ready" for the position but then backtracking, saying that some matters were "under discussion," typified the whole mess, the only snag thus far in an otherwise unusually smooth transition involving impressive choices--an object lesson to Obama (which he had reason to know already) that getting involved with the Clintons is rarely uncomplicated.
Read more about Clinton's potential Secretary of State position here.
Popular in the Community