Colleges and universities that are forced to allow guns on campus should not assume students with concealed carry permits are actually trained in how to use the weapons, a report released Tuesday warns.
It examines a steady "momentum" of conservative lawmakers' efforts in state legislatures to require colleges to allow firearms on their premises. The vast majority of higher education administrators and campus law enforcement oppose these efforts. The good news for those opponents is that most of the bills to expand guns on campus died in 2015, the report notes.
Still, Andrew Morse, director for policy research and advocacy with NASPA, said the last thing higher ed leaders should do is relax and assume future legislation won't go anywhere, given the ramifications of implementing these laws.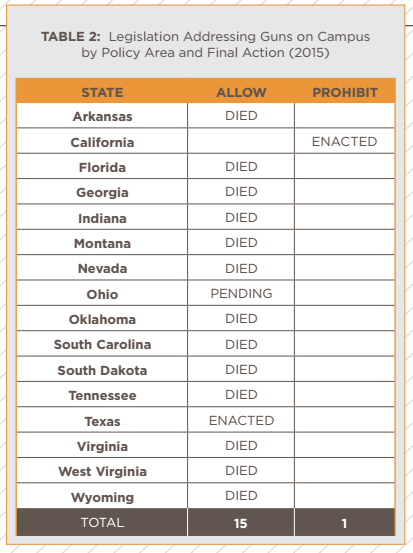 Many proponents of allowing concealed carry on campuses say it's a matter of allowing law abiding citizens -- many of whom have passed requirements to get their permits -- to protect themselves on campuses. The bills typically say only those with proper permits could bring firearms on campuses. But NASPA cites a 2012 Government Accountability Office report that showed the requirements of states to get concealed carry permits vary widely -- and many don't require basic training in the safety and proper use of firearms.
"Even the most stringent eligibility requirements to obtain a concealed carry permit do not prepare individuals to respond effectively in an active shooter situation," Morse told The Huffington Post. Regardless of the momentum of pending legislation, Morse added, it's important for higher education leaders to communicate "the risk that an increased presence of concealed carry weapons may pose to the safety and well-being of their campus communities."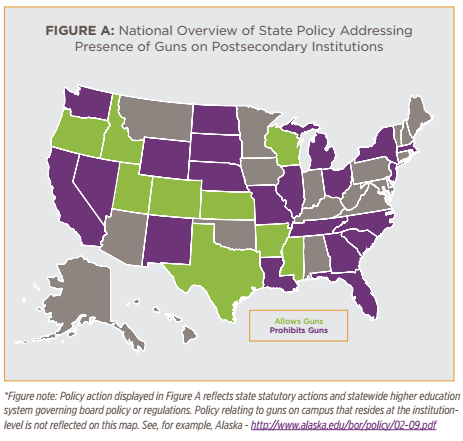 Aside from the difficulty police would face distinguishing a perpetrator from other armed, innocent bystanders in the event of a shooting on campus, NASPA's report warns simply allowing guns to be present could be problematic: 
Social scientists have widely published on the "weapons effect," which shows that the mere presence of a weapon actually increases feelings of anger in both aggressive and non-aggressive individuals (Berkowitz & LePage, 1967; Turner, Layton, & Simons, 1975; Hemenway, Vriniotis, & Miller, 2006; Blanchette, 2006; Carlson, Fee, & Reinke, 2009; Fox, Griggs, & Mouchlianitis, 2007). By enacting concealed carry laws that pertain to college and university campuses, lawmakers should be mindful of the potential for new incidents of violence that such a change might bring to campuses.
Morse suggested that college leaders should work to educate lawmakers about other measures they're taking on campus safety, like threat assessment, behavioral intervention teams and crisis response protocols, so that state officials don't assume schools are sitting on their hands.
Separately, a policy brief that the American Association of State Colleges and Universities released this week says guns on campus are likely to be among the top legislative trends for higher education in 2016. 
Calling all HuffPost superfans!
Sign up for membership to become a founding member and help shape HuffPost's next chapter