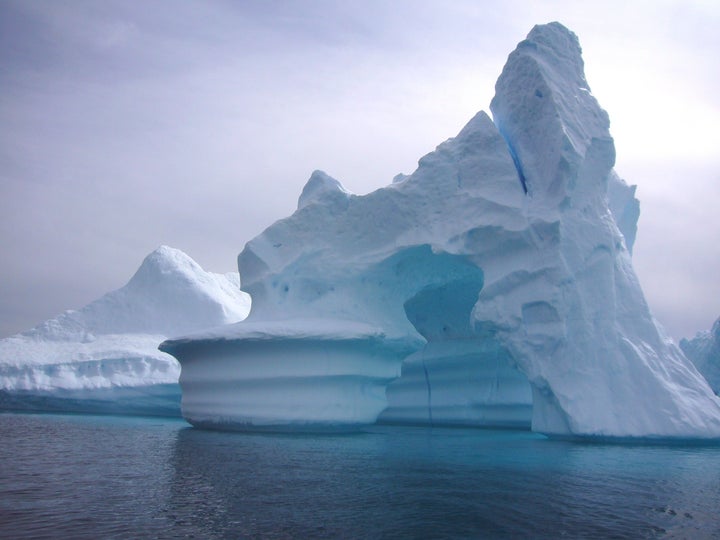 The U.S. Congressional delegation began the final day of the Climate Change Conference in Copenhagen at a working breakfast with high-tech executives from companies such as Google and Maytag. The executives were extremely excited about the new business and green job opportunities presented by a new alternative energy and smart grid system.
We then traveled to the Bella Center and visited the NOAA (National Oceanic and Atmospheric Administration) exhibit of an enormous globe that represented the global impact of climate change. The picture below shows me with the chief software engineer and the individual who designed the stunning model. The globe will be coming to the Denver Museum of Nature and Science in February.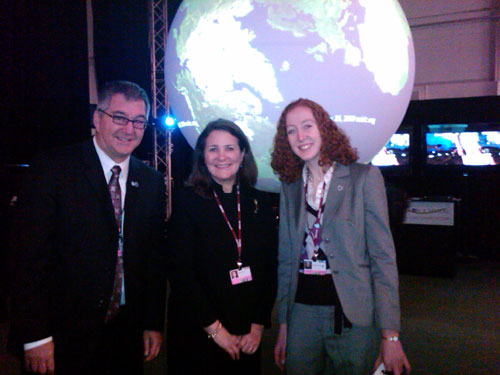 The Congressional delegation then watched speeches by the heads of state of China and Brazil. Brazil's Prime Minister Luiz Inacio Lula da Silva spoke passionately from the heart about his country's commitment to addressing climate change. His presentation was well received by the delegates. President Obama then spoke about the actions his administration has taken to reduce global warming pollution and our commitment to reaching a global deal.
After the speeches, we met with members of the European Parliament to discuss each of our efforts on climate change. The Ministers were impressed to hear of the efforts taken by the U.S. House of Representatives with the Waxman/Markey deal, and of our steadfast resolve to enter into a worldwide agreement.
For many of us, we began our final day with concerns that the talks were not moving fast enough. However, after President Obama met with many of the world's leaders, there was a sense that the talks were getting back on track. Having the U.S. delegation, led by President Obama, Secretary of State Clinton, Speaker Pelosi, and the House members, attend this Conference demonstrated a strong commitment by the United States to resolving global climate change. It also represented a sea-change after years of inaction by the U.S.
At the time of this writing, the final agreement has not yet been approved. It is almost certain that the final binding deal will not be reached in Copenhagen, but we have every reason to believe that we are moving in the right direction.
U.S. Rep. DeGette is attending the United Nations Climate Change Conference in Copenhagen, Denmark (COP 15), as part of the official bipartisan Congressional delegation.
REAL LIFE. REAL NEWS. REAL VOICES.
Help us tell more of the stories that matter from voices that too often remain unheard.