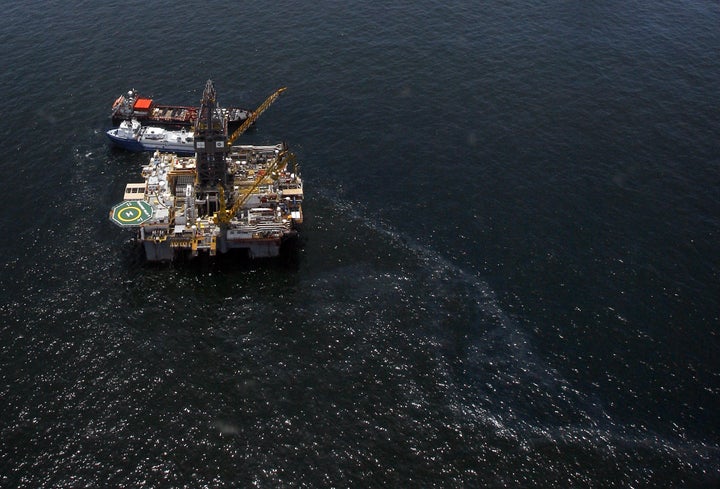 In a dramatic illustration of regulatory capture, a new report from an Interior Department review board has found that poorly trained, ill-equipped and overextended federal inspectors who were supposed to be policing the nation's offshore oil and gas drilling facilities were routinely bullied by industry representatives and were often undercut by their managers when they reported safety violations.
The review board was appointed after a BP rig exploded in the Gulf of Mexico in April, causing the worst accidental offshore oil spill in history. Its report paints a devastating picture of the Minerals Management Service, the agency now known as the Bureau of Ocean Energy Management, Regulation and Enforcement (BOEMRE).
Rather than take issue with the report's findings, BOEMRE's new reform-oriented director, Michael Bromwich, has responded with an implementation plan aimed at fixing the problems.
The report recommended hiring dozens of new inspectors and giving additional training to those already on the job. It also urged a more robust system of enforcement, including greater authority to cite violations and impose fines....

"To a substantial degree, we fully concur with the recommendations," Mr. Bromwich said in a telephone briefing for reporters. "Without knowing them in advance, we're moving to implement the bulk of them."

Interior Secretary Ken Salazar said Wednesday that his department will spend $29 million to increase the number and training of offshore drilling inspectors, upgrade enforcement and take others steps to improve oversight.
He told reporters he hopes to hire hundreds of new inspectors to supplement the 60 or now responsible for about 3,500 drilling rigs and platforms in the Gulf of Mexico. Congress recently authorized the emergency spending.
The lack of management support for inspectors was one of the most striking findings of the report. Here's what it found:
•Most inspectors interviewed stated that industry often exerted pressure on them to minimize reporting violations during inspections. For example, personnel on a facility may make comments such as "there goes my bonus," or "my wife is sick and I'll lose my job." Inspectors also reported that if they issued INCs [Incidents of Noncompliance], operators would sometimes call BOEMRE managers and complain about inspector behavior. For example, one inspector, new to the job, reported that on his first day on a platform he issued several INCs, and the company called to complain about his "rude and unprofessional behavior" before he returned to the office.

•During interviews, inspectors expressed the need for more effective leadership in daily operations and for greater management support when faced with pressure from industry....

•Operators that receive INCs may appeal to the District Manager to have the INC rescinded. A number of inspectors felt they were not sufficiently supported by their management and that in some cases management would give the benefit of the doubt to industry. Inspectors do not always have the tools necessary, such as sufficient training and adequate equipment (e.g., laptops), to effectively support the issuance of INCs.

•Inspectors who issue many INCs reported that they are especially subject to industry pressure, often without sufficient management support. A majority of the inspectors reported receiving ethics training. However, unique circumstances exist in the GOM [Gulf of Mexico], where many people are part of the oil and gas community and inspectors are likely to have worked in industry and to have family members in the business. For example, one inspector reported arriving at a facility to find that his brother, who worked for the operator elsewhere, had been flown to the facility to act as the compliance officer. The inspector informed the company that he could not conduct the inspection with his brother present. Another company representative worked with the inspector during that day.
And while unannounced inspections are a critical element of any serious inspection regime, they were nearly unheard of in the Gulf:
Ninety percent of inspectors responding to the survey identified a critical need for more unannounced inspections. However, unannounced inspections are rarely performed. In the GOM, such inspections are limited by United States Coast Guard (USCG) security restrictions on facilities that are required to maintain a Maritime Security plan (MARSEC facilities). District offices are required to give 24 hours notice prior to conducting an inspection on these facilities. A 2007 GOM directive also states that a 20-minute followed by a 5-minute notification should be given to all other facilities. A 2005 GOM directive required only a 5-minute notification. The definition of what constitutes an unannounced inspection and the conditions under which it could be conducted also varied from office to office. For example, one district office indicated that inspectors could land on some platforms without any notification, while another district office stated that a 20-minute advance notice would be given. Others interviewed stated that the requirements for helicopter pilots to call ahead before landing precluded unannounced inspections. Finally, documents, including the 2007 GOM directive, indicate the existence of special notification arrangements between BOEMRE and certain companies.
The Associated Press contributed to this report.

Popular in the Community