"The man in the grey suit is staring at you. Would you report it?"
A new campaign called "Report It To Stop It" is tackling sexual harassment and assault on public transit by encouraging women to report unwanted behaviors. Created by the Transport for London, a new video for the campaign features a woman on the tube experiencing inappropriate and unwanted behavior from a male passenger.
The male passenger stares at the woman, gropes her on the Tube and pushes his groin into her backside while the voiceover repeatedly asks "Do you report it?"
Not many women actually do report this type of behavior. According to Transport for London, 90 percent of unwanted sexual behavior on public transit is not reported.
Transport for London defines unwanted sexual behavior as anything that makes someone feel uncomfortable, including "rubbing, groping, masturbation, leering, sexual comments, indecent acts, or someone taking photos of you without your consent."
"We want you to feel confident on your journey and know exactly where to turn if you need help," the campaign's Tumblr reads. "If you experience anything that makes you feel uncomfortable, you can report by text or phone. Unwanted sexual [behavior] is never ok."
The campaign's Tumblr breaks down how to report unwanted behaviors and what will happen once you do.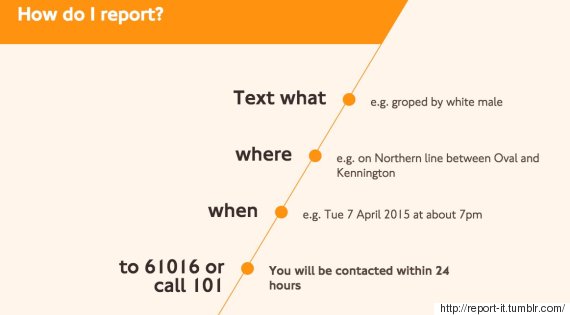 Not many people report this behavior because they don't know what can actually be done to prevent it in the future. Transport for London wants people to know that "no incident is too small or trivial." By reporting it, people can help police arrest repeat offenders. "There is often a pattern to offenders' [behavior], so your information could lead to an arrest when added to other reports," the campaign's Tumblr reads. "We can send uniformed or plain clothed police officers to locations with multiple reports to prevent [offenses] before they happen."
"Our officers are trained to deal with these sort of cases. We will treat you with respect and dignity. You will always be believed and you will always be taken seriously," the site reads.
While women should feel encouraged to speak up when they feel uncomfortable, they shouldn't be the only ones reporting unwanted behaviors. If a person of any gender experiences unwanted behavior or sees someone experiencing unwanted behavior, they should feel empowered to report it immediately. Most cities allow
Another way to stop sexual harassment on public transit? Tell men to stop doing it.
REAL LIFE. REAL NEWS. REAL VOICES.
Help us tell more of the stories that matter from voices that too often remain unheard.
BEFORE YOU GO
PHOTO GALLERY
#ThatsWhatHeSaid