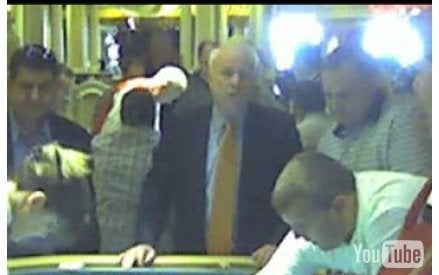 Writing for the Daily Beast, Michael Kinsley relays a disturbing story about John McCain from Jeff Dearth, former publisher of the New Republic, when Dearth and McCain attended a magazine industry conference at a casino hotel in Puerto Rico in 2005:
McCain's game is craps. So is Jeff Dearth's. Jeff was at the table when McCain showed up and happily made room for him. Apparently there is some kind of rule or tradition in craps that everyone's hands are supposed to be above the table when the dice are about to be thrown. McCain--"very likely distracted by one of the many people who approached him that evening," Jeff says charitably--apparently was violating this rule. A small middle-aged woman at the table, apparently a "regular," reached out and pulled McCain's arm away. I'll let Jeff take over the story:

"McCain immediately turned to the woman and said between clenched teeth: 'DON'T TOUCH ME.' The woman started to explain...McCain interrupted her: 'DON'T TOUCH ME,' he repeated viciously. The woman again tried to explain. 'DO YOU KNOW WHO I AM? DO YOU KNOW WHO YOU'RE TALKING TO?' McCain continued, his voice rising and his hands now raised in the 'bring it on' position. He was red-faced. By this time all the action at the table had stopped. I was completely shocked. McCain had totally lost it, and in the space of about ten seconds. 'Sir, you must be courteous to the other players at the table,' the pit boss said to McCain. "DO YOU KNOW WHO I AM? ASK ANYBODY AROUND HERE WHO I AM."

This being Puerto Rico, the pit boss might not have known McCain. But the senator continued in full fury--"DO YOU KNOW WHO YOU'RE TALKING TO? DO YOU KNOW WHO I AM?"--and crisis was avoided only when Jeff offered to change places and stand between McCain and the woman who had touched his arm.
Also this week, Brave New Films released a new video focused on McCain's temper, featuring "original interviews with former U.S. Senator from Arizona Dennis DeConcini, former Arizona Republican Party Executive Director Jon Hinz, former Arizona Republic Editor Pat Murphy, and Eleanor Apodaca, sister of a Vietnam POW/MIA soldier. All four attest to McCain's explosive anger, three of them with personal anecdotes."
Popular in the Community