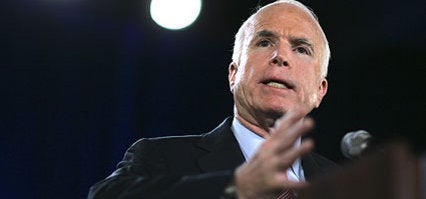 In his efforts to attack Barack Obama, John McCain appears to have turned to the same political consulting firm that was responsible for spreading vicious smears about the Senator during the 2000 South Carolina GOP primary.
In recent days, the Huffington Post and other outlets have reported on the McCain-funded nationwide robocall campaign charging that Barack Obama "worked closely with" former 60s radical William Ayers. Another RNC/McCain campaign call states that Obama is a "celebrity" politician who was fundraising in Hollywood during the financial crisis.
On Friday, a recipient of one of those calls, Chris Shoff of Minnesota, said that he had tied the origins of the campaign to the St. Paul-based firm FLS-Connect, run by prominent GOP figure Jeff Larson.
This past week, Shoff, a Freeborn, Minnesota Democratic County Commissioner, received the Hollywood call while at work. Because state law dictates that any such calls be made by an actual human, Shoff demanded that he be connected to the supervisor. That official, who worked at the robocall shop King TeleServices in Brooklyn, New York, said that they had been contracted out by FLS-Connect.
Officials with King TeleServices did not respond to messages seeking comment.
Asked about the connection to King TeleServices, a receptionist for FLS relayed a message from her supervisors that implicitly acknowledged that they have been working on behalf of the Arizona Republican: "If it is having to do with the McCain campaign or the RNC, you will have to direct your question to them."
According to campaign finance reports, the RNC has paid the firm more than $8 million this cycle. On Friday, Minnesota Democrats stated in a press release that FLS-Connect "may be behind the [RNC/McCain phone campaign]."
Any tie between the McCain campaign and FLS represents an ironic twist of fate and a reflection of just how far the Arizona Republican has moved politically in the last eight years. During the 2000 election, FLS and Larson reportedly helped then-presidential candidate George W. Bush smear McCain during the now-infamous South Carolina primary. As the Washington Post reported in April 30, 2000:
"The advocacy calls for George W. Bush's campaign that became an issue in this year's South Carolina GOP primary were developed by Feather, Hodges, Larson & Synhorst [FLS]. The firm maintains seven phone banks and 500 phones scattered from Phoenix to Minnesota. South Carolina, home of the Bush blitz, is one of the firm's "best" phone centers, said partner Jeff Larson. "Military wives from all over the country make calls for us there." "Phones are great," he said, "because you can change your message right away." With better voter lists and a new trend toward recorded messages, today's political calls are "narrowcast"--antiabortion activists will hear one script, voters in one small area will hear directly from a local pol. "It's a blossoming business."
At the time, McCain railed against the practice of robocalls, calling them "hate calls" and complaining that voters were "inundated" by them.
Larson is a major official within GOP circles. FLS Connect counts as its clients the last five Republican presidential campaigns and many of the major party institutions. The RNC, the National Republican Senate Committee, and the National Republican Congressional Committee also employ the firm's services. Larson has also been a volatile figure in this year's Minnesota Senate race, having rented a Washington D.C. apartment to incumbent Republican Norm Coleman for a highly discounted rate.
On Friday, even GOP Sen. Susan Collins condemned McCain's robocall campaign. "These kind of tactics have no place in Maine politics," her spokesman said. "Sen. Collins urges the McCain campaign to stop these calls immediately."
And as the New York Time's Michael Cooper noted, as recently as nine months ago, McCain and his campaign "were decrying a series of negative robo-calls that were being made to voters before the South Carolina primary accusing him of voting to 'use unborn babies in medical research."
"The tactic - people do phone calls, and they have a political effect when there's unknown quantities about the candidate,'' [senior McCain adviser Steve] Schmidt said back then, as the bus rolled through South Carolina. "So if you look at it eight years ago, John McCain had won the New Hampshire primary, comes down here where he was nowhere nearas widely known as he his today by the people of South Carolina on the issues."

"So it's a conveyance to introduce new information -- and a lot of that information on the phone is slanderous and smearing," he said. "But if not enough about who the person is, or what they're about, is known, is the criteria for it working. When you're a defined entity like he is now, they have a very minimal effect."

Now the McCain campaign is using similar calls as it seeks to discredit Mr. Obama in a series of battleground states. Tucker Bounds, a McCain campaign spokesman, defended the calls, saying, "These calls are based on hard facts."
LATE UPDATE: An official with FLS writes that they were not behind the smear calls during the GOP primary but rather only did work on policy-related matters. The company provided several newspaper clips that quote Larson denying his involvement. The story above, however, cites a Washington Post article that says FLS developed the advocacy calls "for George W. Bush's campaign that became an issue in this year's South Carolina GOP primary."
Popular in the Community