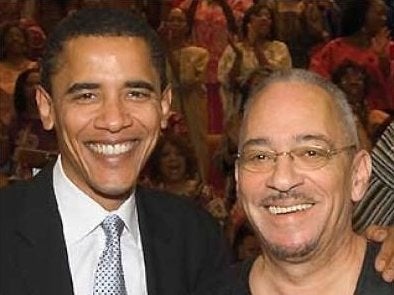 UPDATE: The Chicago Sun-Times Washington Bureau Chief Lynn Sweet has Obama's remarks at a press conference in South Dakota on his decision to resign from Trinity United Church Of Christ In Chicago:
"I have to say--this is one I did not see coming," said Obama. He said it has been months since he has been at the church, on Chicago's South Side. "I did not anticipate my fairly conventional Christian faith being subjected to such...scrutiny.

Obama sent a letter to the church with his resignation on Sunday; Obama called the press conference after the letter leaked to veteran Chicago journalist Monroe Anderson, a contributor to Ebony and Jet. Otherwise, Obama said, he would have not made his resignation known at this time.

"My faith is not contingent on the particular church I belong to and I do not believe that I am going through a religious test," he said.
EARLIER: Veteran Chicago journalist Monroe Anderson reported on his blog Saturday that Barack Obama and his family have resigned from Trinity United Church.
In the wake of the Father Michael Pfleger controversial sermon last Sunday at Trinity United Church of Christ, Barack Obama sent a letter yesterday resigning from his place of worship for the past 20 years.

I sort of, kind of, understand why he did it. But I'm also sort of, kind of, concerned about what this might portend for an Obama presidency.

Rev. Jeremiah Wright and Trinity are community building blocks that the right wing has turned into bricks to be thrown at presidential candidate Obama from now until the general election ends in November--and perhaps beyond.
The Chicago Sun-Times Washington Bureau Chief Lynn Sweet confirmed that the Obamas have left Trinity:
Obama spokesman Bill Burton confirmed that Sen. Barack Obama (D-Ill.) quit Chicago's Trinity United Church of Christ. Obama "will answer questions this evening" about resigning from the church that helped Obama chart his course as a Christian, an Obama top adviser just told me.
Sweet also reported that Obama will address his departure from Trinity later Saturday:
Obama campaign manager David Plouffe just told me Obama's availability--where he will talk about ending his long relationship with Trinity will take place at about 8:15 p.m. eastern time tonight, from South Dakota, where he is campaigning in advance of Tuesday's primary vote.
Popular in the Community