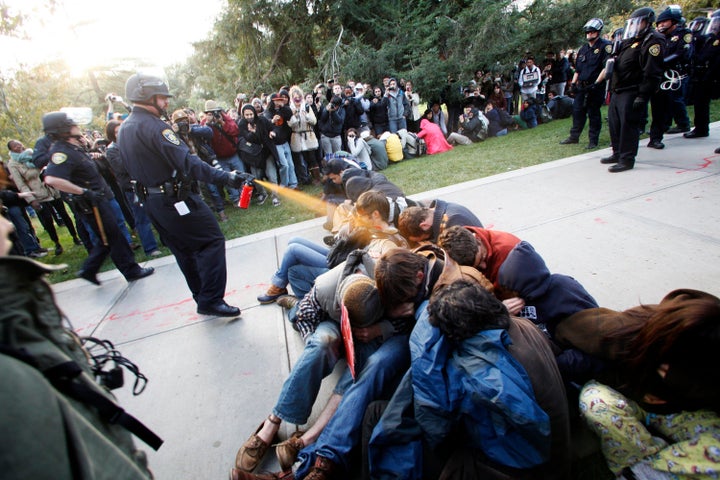 A task force investigating the pepper spraying of protesters at University of California, Davis cannot release their report to the public because of a court order.
An Alameda County judge issued a temporary delay Tuesday on the disclosure of a task force report, at the request of the union representing the UC Police Department.
UC President Mark Yudof and UC Davis Chancellor Linda Katehi ordered a task force to investigate the November 18 pepper spraying incident of seated non-violent protesters. Former California Supreme Court Associate Justice Cruz Reynoso was named as the head of the task force, and Kroll Security Group was also hired to investigate the incident.
Police and their attorneys have not yet seen the report, according to John Bakhit, who represents the officers, but they argue that it may contain private and confidential information. UC attorneys insist the report does not.
"I was very frustrated to receive this news today," Reynoso said in a statement. "However, let me assure you that I am undeterred in my commitment to release the complete and unredacted work of the Task Force, a view shared by President Yudof."
Yudof promised in a statement that he would seek to have all the conclusions from the task force and investigation to be released, though he said he has not seen the reports yet.
"I am disappointed," Yudof said, "and I have asked the UC General Counsel's office to do everything in its power in court to turn back this attempt to stifle these reports."
Bakhit said the police officers and their attorneys will be allowed to read the report before another court hearing on March 16, which will decide whether or not to release the task force report.

Additional investigations by Yolo County Sheriff's Department and Yolo County Attorney's Office could yield criminal charges against police officers involved in the event.