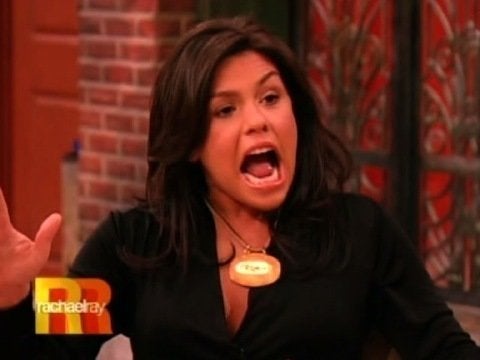 UPDATE: A representative from King World contacted Huffington Post to deny the Page Six report and to correct several inaccuracies with the Page Six article.
Some of what King World told HuffPost this morning:
The "Rachael Ray" show is one of the best talk show performers and during the recently completed February sweeps period there was only one show performed better — Dr. Phil. In today's Broadcasting & Cable you can see a story about how well we did during the February sweep that saw Oprah was down 15% from last February, Regis and Kelly was down 16%, Tyra Banks down 13% and Martha Stewart down 27%.

As you can see we are actually growing this season in a very difficult TV environment, where total viewership has been down due in part to the writer's strike.

Last season our show averaged 2,552,000 viewers per show. So far this season we are UP — averaging 2,593,000 viewers per show.

And with regard to our median age rising, yes it has, but less than 3% and the explanation for that is we have a loyal viewership that has been with us since the show launched and they had a birthday since last year!

But if we want to talk median ages in first run syndication let's talk about Regis at 56.1, Oprah at 54.6, Wheel of Fortune 64.1 and Jeopardy at 63.2. Our show has a wide appeal with audiences in all age groups.
King World also corrected the Page Six report that they are syndicating Marie Osmond's show — they are not.
ORIGINAL ITEM: Rachael Ray may be relatively new to the media scene, but she has fast developed a reputation as a demanding and difficult to work with diva. In January, two top execs at her magazine, "Every Day with Rachael Ray," walked away, leaving the staff in "turmoil" — this, after reports of discontent bubbling over at the mag.
Insiders say the demanding TV cook's syndicated daytime show, "Rachael Ray," carried here on WABC/Channel 7, will be getting the ax at the end of her contract.

An impeccable TV source told Page Six, "They are seriously talking about taking her off the air."

The problem is Ray's ratings. When she debuted two years ago, she had a meager 2.5 rating, which her syndicator, King World, nonetheless trumpeted as "The biggest syndicated debut since 'Dr. Phil.' " In fact, one insider said, "They had hoped for more. 'Dr. Phil' beats 'Oprah' and gets like a 5.0 rating - and Rachael's set is very expensive and elaborate; his is just chairs."
Page Six suggests that one possible replacement for Ray's time slot would be Marie Osmond, who is herself working on a talk show with King World.