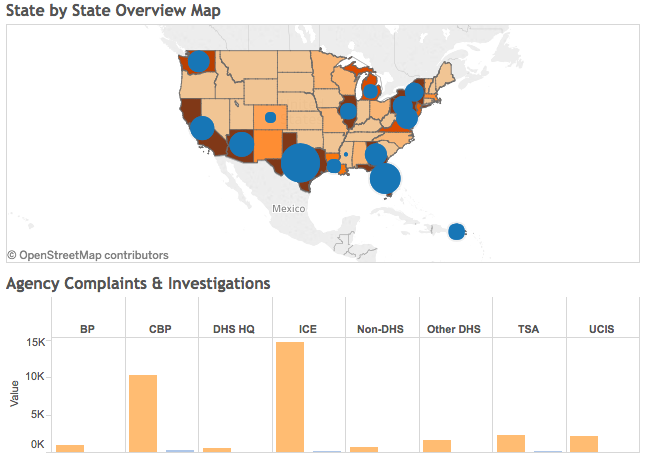 Between January 2010 and July 2016, DHS's Office of the Inspector General (OIG) received 33,126 complaints of sexual assault or physical abuse against DHS component agencies. More complaints were submitted against U.S. Immigration & Customs Enforcement (ICE), the agency responsible for immigration detention facilities, than any other DHS component agency. Of the total number of complaints, over 44 percent (or nearly 15,000 complaints) were lodged against ICE. Customs & Border Protection (CBP), responsible for detaining people at ports of entry, received over 10,000 complaints.
This data, which CIVIC obtained through a Freedom of Information Act request, also reveals that OIG investigated only 247 of these complaints, or less than 1 percent of all the complaints.
A spokesperson for ICE said in a press statement that "the agency believes the overall incidence of such activity is very low" compared to the total number of people in its facilities. But these complaints are not data points. They represent human beings who have been raped, sexually assaulted, and harassed either at the hands of DHS agents or because DHS has been unable or unwilling to protect them.
Rosanna Santos, a party to the complaint, immigrated to the United States from the Dominican Republic at age nine. Although a legal permanent resident, she was detained at the York County Jail in Pennsylvania where she was sexually harassed by a corrections officer in 2013. Santos was returning from her immigration court hearing when the male corrections officer escorting her forced her into a room without surveillance cameras. He told her that she had to do everything he said or else he would sodomize her.
Santos filed a complaint. Instead of investigating the assault, the government threw Santos into solitary confinement for 11 days. Of the total number of sexual assault complaints lodged with CIVIC, only 18.5 percent of these individuals felt comfortable filing a formal complaint with DHS.
"A lot of the girls there had problems like this. Most of them don't even end up complaining or saying anything about it because they're scared of retaliation," said Santos in a phone interview.
Santos' story is not an isolated incident. At least some, if not many, of these assaults are being perpetrated by ICE officers, contracted facility guards, and even medical professionals.
At the Stewart Detention Center, a CCA/CoreCivic-run facility in Georgia, a man was strip searched while a CCA guard touched his genitals. When he filed a complaint, the guards questioned his sexual orientation rather than taking steps to protect him.
At the Northwest Detention Center, a GEO Group-run facility in Washington, a detained individual filed a complaint about being sexually assaulted by an Immigration Health Service Corps Physician Assistant during a medical examination.
At family immigration detention facilities, Spanish-speaking children and their mothers are not encouraged to submit complaints. In fact, the Spanish version of ICE's Handbook blames women for their own abuse by telling them not to drink or talk about sex so they do not get assaulted at the facility, while the English version tells women how to report crimes in a single paragraph with bullet points.
When mothers and their children do file complaints in immigration detention, government documents show that the complaints can be easily ignored. At the Karnes County Correctional Center, a GEO Group-run family detention facility, a young girl under 18 filed a complaint about sexual assault. A medical exam of the child showed indications of a sexually transmitted disease and vaginal scarring. Despite physical evidence, ICE declared the allegation of sexual abuse "unfounded."
Men also are discouraged from filing complaints. Douglas Menjivar Pineda, another party in the CIVIC complaint, was raped at the GEO Group-run Joe Corley Detention Facility in Texas in 2013. Despite his fears of retaliation, Menjivar immediately reported the rape to a supervising facility official. The facility official responded that Menjivar was the most "stupid" person in detention because he "let" this happen to himself. The facility official did not document the report or attempt to secure medical or psychological care for him.
A year late, after ICE transferred him to another facility, Menjivar was able to file a formal complaint about his rape. But it took until January 2015 for ICE agents to conduct an internal affairs review of his complaint. His attorney was not allowed at the interviews, and with no documentation from immediately after the rape, the government declared that "the facts and evidence did not support that the incident occurred."
DHS has not yet responded directly to CIVIC or to the survivors of sexual assault detailed in the complaint. CIVIC is now taking its complaint to Congress, calling on Congressional representatives to establish the second bipartisan National Prison Rape Elimination Commission (NPREC) to investigate violations of the Prison Rape Elimination Act, especially in ICE and CBP detention facilities.
You can learn more about sexual assault in immigration detention, particularly against vulnerable LGBTQ immigrants, at a Congressional Briefing on May 10th at 3:00 p.m. EST at the U.S. Capitol Visitor Center, Room HVC-201.
Popular in the Community