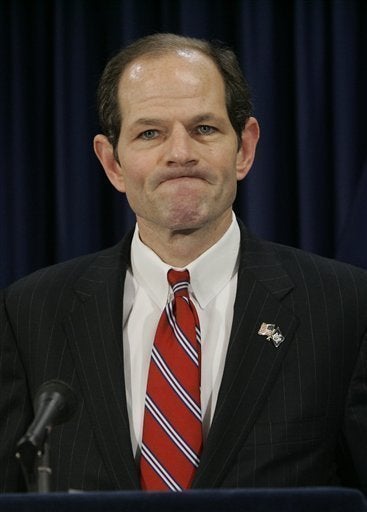 Report: Spitzer Has Used Hookers For 6 Years: The New York Post reported Tuesday that Gov. Eliot Spitzer's history with prostitutes might go back further than initially revealed:
Gov. Eliot Spitzer has been soliciting high-priced hookers for at least six years and possibly for more than a decade, sources tell The Post.

The revelation yesterday that the crusading governor was in fact "Client 9" named in a federal prostitution indictment did not shock insiders in the city's sex industry.

Sources tell The Post that Spitzer had frequented high-priced hookers as far back as 2002 and possibly earlier.
Nice Guy, Good Tipper: According to ABC News, a woman that received Mr. Spitzer as a client years ago has said that he was good customer.
A 22-year-old escort found on another call-girl Web site told ABC News in a phone interview that Gov. Eliot Spitzer had been one of her customers two years ago when he was New York attorney general and that he was a nice guy who tipped well.

"He didn't do anything that wasn't clean," she said, adding that she knew who he was because he had made calls from the attorney general's office in Brooklyn, N.Y.
Calling all HuffPost superfans!
Sign up for membership to become a founding member and help shape HuffPost's next chapter