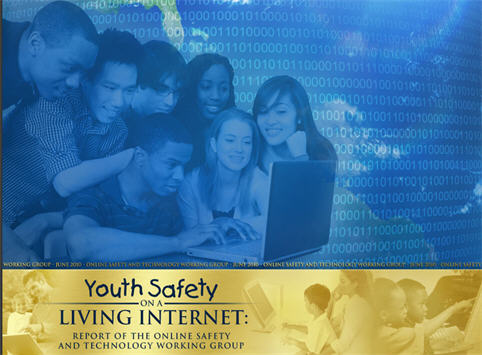 Final report of the Online Safety Technology Working Group
Youth Safety on a Living Internet (PDF), the final report by the Online Safety Technology Working Group (OSTWG), found that the best way to assure youth safety on the Internet "points to the growing importance of online citizenship and media-literacy education, in addition to what has come to be seen as online safety education, as solutions to youth risk online."
Before I go on, I have to say that I was a member of the Task Force and Chair of the Education Subcommittee and Anne Collier, my co-director at ConnectSafely.org, was co-chair of the Task Force itself along with former MySpace chief security officer Hemanshu Nigam.
Our goal in putting together the report was to look not only at the history of online safety efforts over the past nearly 20 years but also the emerging research that shows how young people use social media.
What we concluded is that we need to go beyond worrying about predators and pornography and start thinking about young people as active participants - true citizens - in an increasingly interactive online environment where young people are just as likely to create content as they are to consume it.
The title of the report, "Youth Safety on a Living Internet" says a lot about the thinking of its authors, "The Internet is a living thing reflecting all of life and, where children are concerned, that includes a spectrum of issues - from learning, child development, sociality, and entertainment at one end to crime and victimization at the other." We urge Congress and other policy makers to "Please recognize this reality and draw upon diverse expertise in all policy making."
The report finds that "civil, respectful behavior online" is less conducive to risk" and recommends "digital media literacy" as a powerful force towards reducing risk online and off. We recommend avoidance of scare tactics and we promote the social norms approach to risk prevention.
The report calls for solutions that are "fact-based, not fear-based" and recognizes that minors themselves "have a role to play in improving their own safety online and that of their peers."
• Provide targeted online-safety messaging and treatment.
• Avoid scare tactics and promote the social-norms approach to risk prevention.
• Promote digital citizenship in pre-K-12 education as a national priority.
• Promote instruction in digital media literacy and computer security in pre-K-12 education nationwide.

More resources
Anne Collier's blog post on NetFamilyNews.org
Blog post by OSTWG member Adam Thierer of Progress & Freedom Foundation

The Report
Related
Popular in the Community