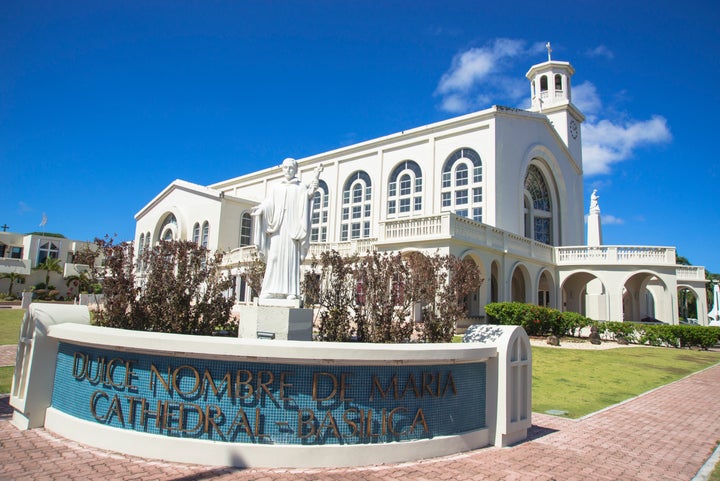 The latest sex abuse scandal to rock the Catholic Church shines a spotlight on the small, predominantly Catholic U.S. territory of Guam.
Two archbishops of Agana, as well as multiple priests, bishops, teachers and even Boy Scouts leaders on the Western Pacific island are implicated in the suits.
The lawsuits alleged that leaders repeatedly preyed on children, some as young as 7 years old, and include claims of molestation, rape, and priests exposing themselves and displaying pornography in the company of young altar boys.
Louis Brouillard, who served as a priest and scoutmaster on Guam from 1948 to 1981, is named in 55 lawsuits and has admitted to abusing at least 20 boys on the island. In an interview with the Associated Press last year, Brouillard, now 96, said other priests on the island who he confided in advised him to pray and "do better."
Brouillard, who currently lives in Minnesota, still receives a monthly stipend of $550 from the Archdiocese of Agana, reported Pacific Daily News.
Also named in the suits is Archbishop Anthony Apuron, who was accused of assaulting numerous boys during the 1970s. Pope Francis suspended Apuron in June of 2016 after allegations of sex abuse emerged, and the Pacific Daily News investigation reported that the Vatican is conducting a discreet trial that could lead to his removal from the clergy.
Apuron has denied the charges. 
William Payne, who is among Agana's accusers, said that his parents "raised him to honor and respect the priest, and told him that he had to do what the priest told him to do," according to his suit, obtained by Pacific Daily News. Payne said he was  "instilled with the belief that clergy are never wrong, and that the clergy were like Jesus."
Last year, Guam lawmakers passed a bill that retroactively eliminated the statute of limitations for civil suits involving child sexual abuse. Lawyers representing the archdiocese, Apuron, the Boy Scouts and two other accused clergy members have filed motions to dismiss the lawsuits, claiming that the bill was unconstitutional. 
Apuron, who still holds the title of archbishop, can not be tried criminally due to the statute of limitations on criminal prosecution.
The lawsuits rocking Guam come as another prominent Catholic leader ― top-ranking Vatican official Cardinal George Pell ― stands for "historical sexual assault offenses" in Australia, where there is no statute of limitations for such cases. Like Apuron, Pell has denied the charges against him.
CORRECTION: A previous version of this story stated the lawsuits allege abuses spanning 40 decades. In fact, they span 40 years.
REAL LIFE. REAL NEWS. REAL VOICES.
Help us tell more of the stories that matter from voices that too often remain unheard.
BEFORE YOU GO
PHOTO GALLERY
Catholic History