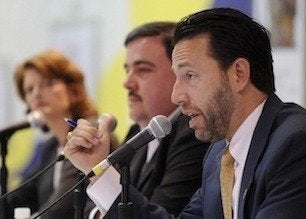 The Alaska-based reporter who was briefly handcuffed and detained by security detail for Alaska Senate candidate Joe Miller offered additional details about his ordeal in an interview with The Huffington Post on Monday.

Tony Hopfinger, who edits the website Alaska Dispatch, said that the roughly 25 minutes that he was detained in a empty corridor with only one private security guard watching him, was intimidating, maddening and cause for concern about the treatment of the press by political candidates.
"Getting handcuffed by somebody you don't know at a public school, no one had said it was a private event or cast it that way, I mean intimidated, yeah [I was]. But I guess I was more pissed off. Miller, I felt, was going to answer my question on the reprimand part," said Hopfinger.
"I think, just like in other parts of the country, the media is finding itself having a hard time doing its job in this political cycle because, whenever we ask questions, there are certain candidates out there who decry 'lamestream media' or whatever. Mr. Miller has had plenty of time to answer questions. He has been given plenty of opportunities. He somehow believes he shouldn't be questioned about his background and yet he wants a job in six years, to a post where there are only 100 in the entire country, and we are not supposed to ask questions about anything of his past. There is a little bit of shoot the messenger. It is happening up here, and other parts of the country. There are certain candidates who just want to turn this around and act like it's the media causing the problem. That has always been there, that element. It is just more ramped up this political cycle."
On Sunday, Miller's private security guards handcuffed and detained Hopfinger after he tried to ask the candidate about his time at the Fairbanks Northstar Borough. Miller was accused of using borough equipment in the unsuccessful 2008 attempt to oust state Republican Party Chairman Randy Ruedrich.
Hopfinger said that he followed Miller through the school hallway, hoping to get an on-the-record explanation about the issue. At some point, he said, he found himself alone among reporters and "surrounded by a bunch of security guard types and Miller supporters." Miller never told him to stop asking questions, he said. But his backers did.
"I figure I'm at a public school and they are telling me I'm trespassing," he said. "And it was just a matter of seconds, I'm challenging this trespass issue and the next thing you know they got me detained and I'm in handcuffs and they put me in another corridor of the building. So for 25 minutes no one even knew where the hell I was... They said we were going to call the police and I said, 'Fine, call the police.'"
Hopfinger said that both he and his paper have not yet ruled out considering legal remedies. But his preference is to let Miller's actions "speak for themselves."
"Right now, we will look at whatever options we need to look at," he said. "I think really, at the end of the day, I would just prefer to see Mr. Miller [answer the questions]."
Miller's campaign put out a statement after the incident saying that Hopfinger "physically assaulted another individual and made threatening gestures and movements towards the candidate" - charges denied by Hopfinger. The Alaska Republican's office also has said they didn't know that Hopfinger was a "blogger" (he's not, the Dispatch is a for-profit start-up news website that employs four reporters, two of whom have won Pulitzer Prizes for their reporting).
Miller has been critical of the Alaskan media, saying that they focus on irrelevant issues and he has instead opted to appear frequently on Fox News. "We've drawn a line in the sand. You can ask me about background, you can ask me about personal issues -- I'm not going to answer," Miller said recently.
He has been especially critical of the Alaska Dispatch, saying "one of the major investors, publishers in that blog is a max donor to the Murkowski campaign." Miller is the lone candidate in the Senate race refusing to attend the site's sponsored debate (which is taking place, ironically, tonight).
Popular in the Community