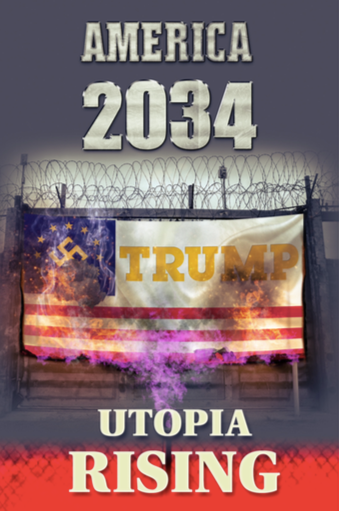 The future isn't pretty in journalist Jonathan Greenberg's new dystopian satire "America 2034: Utopia Rising," where two-thirds of the population is enslaved in debtor labor camps to work for the oligarchs of the renamed nation the United Enterprises of America, ruled with an iron fist by president-for-life "Donald Jesus Trump." 
Abortion is illegal; half of newborns are removed from their mothers to be sold to affluent customers. The nation is on the brink of ecological devastation. A guiding principle of the land is that "God helps those who help themselves," or, more succinctly in the president's words: "It's not our job to care for the losers."
"I bring to life what's happening now into the future in the book," Greenberg told HuffPost. "I want to reach people who have checked out of politics — those who don't think their vote matters or that all candidates are basically the same. I hope this changes their mind."
In Greenberg's futuristic vision, the crisis started after the presidential election of 2020 when Donald Jesus refused to accept his loss, disenfranchised 15 million voters and called out the military to quell protests. But there's hope. More than 100 million people living in the brave states of California, Oregon and Washington battle for control.
Greenberg is familiar with the flesh-and-blood Trump. He wrote earlier this year in The Washington Post that Trump called him in 1984 pretending to be his own financial assistant ("John Baron"), trying to talk his way onto the Forbes 400, the magazine's annual list of the richest people in America. The caller told the reporter that Trump, in fact, owned most of his father's real estate empire at the time and grossly exaggerated Trump's wealth, Greenberg wrote. Greenberg included the audio recording of his phone call in the Post piece.
Before he became president, Trump was known to call reporters pretending to be someone else as he boasted about Trump's accomplishments. After listening again to the tapes he saved, Greenberg wrote, "I was amazed that I didn't see through the ruse."
Greenberg turned the table on the president in his book and used Trump voice impersonator Jamie C. Ward to read a Donald Jesus speech that will appear in an audio version of his book. Check out the speech in the video below:
Calling all HuffPost superfans!
Sign up for membership to become a founding member and help shape HuffPost's next chapter
BEFORE YOU GO