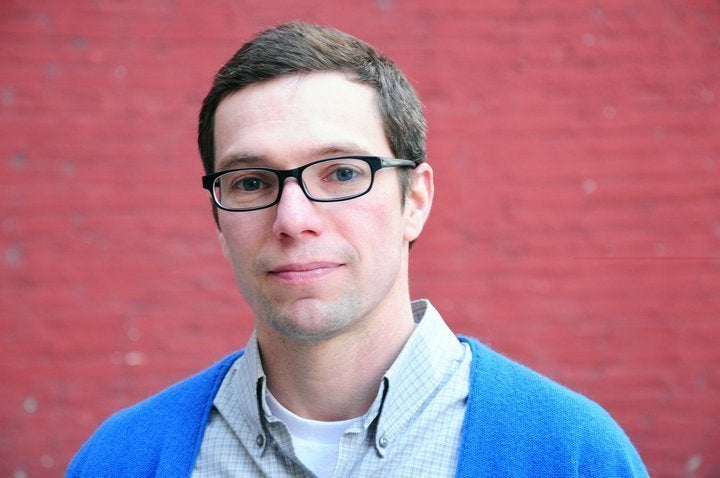 For years, the Chicago Reader's Mick Dumke has been reporting on everything from the city's misuse of TIF funds to its lack of recycling. Shedding light on the city's shortcomings is definitely a way to get on Mayor Daley's nerves (as most Chicago journalists know) but Dumke hasn't backed down.
Last year, Mayor Daley confronted Dumke when questioned about the effectiveness of the city's now-defunct handgun ban.
"[The ban has] been very effective," Daley said, grabbing a gun off the table in front of him. "If I put this up your -- your butt, you'll find out how effective it is. If we put a round up your, ha ha."
Now, Dumke is taking his issue with Daley to court. On Tuesday, he filed a complaint in Cook County Circuit Court against the city, Mayor Daley and two Freedom of Information officers with the Chicago Police Department after they allegedly rejected his legitimate requests for information.
"Mayor Daley has often said that he's one of the most accessible public officials in the country, and it's true that he fields questions from the press on a regular basis," Dumke told HuffPost Chicago via email Tuesday. "But reporters have battled for years to get even basic information about how exactly the mayor formulates policy and whom he meets with when he's doing so--typically to no avail. So when I saw that President Obama had begun keeping an online log of who's visiting the White House, I thought it would be important to check on the meeting schedule of our city's chief executive. That was nearly a year ago."
The lawsuit lists three specific times Dumke requested information from the city and was denied. (Read the full lawsuit here) In one case, Dumke requested Mayor Daley's appointment calendar and schedule for November and December of 2009 and February through April of 2010. Typically, the Mayor's office sends a list of Daley's public meetings to reporters each day, but Dumke was wondering who Daley was meeting with in City Hall during those times.
Jenny Hoyle, a spokeswoman with the city's law department, said Dumke's schedule request was too big, which is why it was rejected. She said Daley's schedule is not maintained in a searchable database, therefore "every schedule includes information that needs to be redacted, including the personal contact information of the Mayor's security detail--the Chicago police officers assigned to him for that day."
"We have provided copies of the Mayor's schedule in the past in response to FOIA requests," Hoyle said. "Typically, we review the volume of material that has been requested and try to make a determination as to whether we can compile the schedules, review and redact them and produce them in the 10 business days required by FOIA. When requests for the schedule exceed approximately two months, it usually is not possible to complete the response in that time period and we ask the requester to narrow it. In Mick's case, narrowing it to just private meetings or even private meetings at City Hall was not sufficient, because we would still have to go through each day of the schedule and physically extract that information. It's not something that could be done electronically."
Dumke, however, said the public should be able to know who the mayor is meeting in City Hall, and not disclosing his appointment schedule is not exactly transparent government.
"Though a new mayor will take office next month, this is an issue that transcends personalities or individuals," Dumke said. "So we thought it was important to continue to press for accountability. We believe the public has the right to know what sort of meetings are happening in a public office and what elected officials are doing with our time. The city has offered various reasons why this shouldn't and can't be so."
Aside from Daley's schedule, the city also rejected Dumke's request for homicide information for 2008--when more than 500 people were murdered in Chicago. He asked for the locations of these crimes, the cause of death, whether they were gang or domestic related, and other details. He also requested a report that analyzed CPD's operations which was conducted by an outside firm, and led to the department moving 130 officers to street duty in 2010.
A Chicago Police Department FOIA officer responded to Dumke in a letter, saying that giving him details about homicide victims would jeopardize the safety of the victims' family members. They also said his request for information about the CPD study was "burdensome."
"The CPD had to seek pre-approval from the Attorney General's Public Access Counselor (PAC) to withhold [the consultant's study] as a document in which an opinion is expressed or a policy or action is formulated before they denied Mick's request," Hoyle said in an email Wednesday. "The PAC signed off on the use of that exemption."
Dumke said the PAC ruled in the city's favor because they were told the study had never been discussed in public (a press release about the officers being moved to street duty mentioned the study, and was covered by area newspapers and television stations.) He added that the PAC ruled in his favor when it came to the homicide information, which "the city ignored" and never provided.
In the lawsuit, Dumke says the city is violating Freedom of Information Act laws, and hopes to get the information he asked for more than a year ago.
"A vigorous debate is going on among elected officials and citizens--many of them deeply frustrated, if not frightened--about public safety at a time of declining police resources," he said. "Yet the police department regularly says the public does not have the right to know details showing what's happening in their streets and what is being done about it."
John Elson and Frank Dylewski from Northwestern University's Bluhm Legal Clinic assisted Dumke with the filing.
Support HuffPost
The Stakes Have Never Been Higher
Related
Popular in the Community