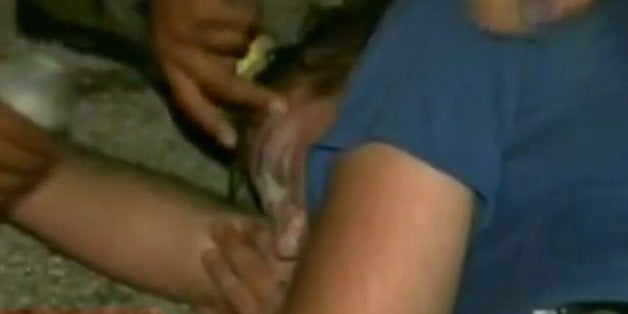 Journalists found themselves targeted in Ferguson once more on Monday night. Members of the media were again arrested, detained, hit with tear gas and shoved around by officers in the Missouri town, which has erupted in the weeks following the killing of Michael Brown.
Ryan Devereaux, a reporter for the Intercept, was detained by police early on Tuesday morning. His editor, John Cook, wrote that police had initially given no information about Deveraux's status.
"It's an outrage that he was stopped and handcuffed by police in the course of lawfully doing his job on the streets of Ferguson," Cook wrote.
Deveraux was released hours later without charge. The Intercept said that he had been hit with beanbags and rubber bullets even as he had his hands up and was shouting "Press!"
Two German reporters were also arrested.
Scott Olson, a photographer for Getty, was briefly arrested while covering a protest. "Getty Images condemns Scott's arrest and is committed to ensuring that he and our other photographer colleagues are able to report this important story," an executive said.
CNN's Don Lemon was shoved down the street on the air by a police officer. He was in the middle of a crowd of protesters.
"I think we're about to be arrested because we're standing on the sidewalk," he said.
Later, journalists found themselves once again hit by tear gas. CNN's cameras caught a photographer getting milk poured into his eyes to alleviate the pain.