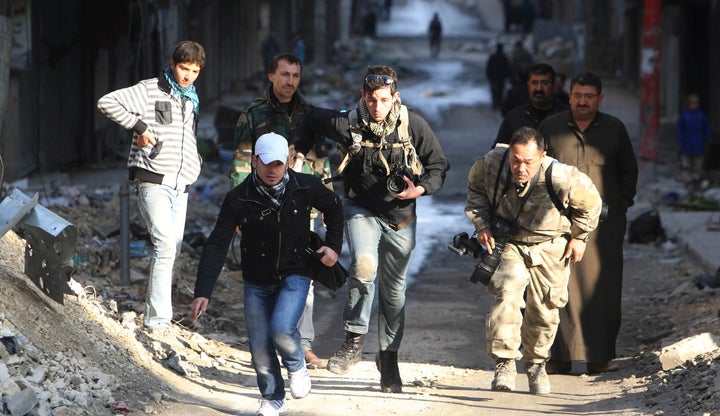 September 2016 marks 70 years since the conclusion of the Nuremberg Trials and the sentencing of Nazi personnel most responsible for the deaths of millions before and during World War II. As Immediate Past Chair of the Robert H. Jackson Center in Jamesville, NY, and a former Chief Prosecutor of the Special Court of Sierra Leone, recently I attended the 10th International Humanitarian Law Dialogs in Nuremberg, Germany, to mark this anniversary and to remember the legacy of this groundbreaking example of international criminal procedure and transitional justice.
At Nuremberg I was reminded of the critical role journalists play during conflict and in postconflict justice, by bringing to light war crimes and crimes against humanity and by providing international prosecutors with information to help build cases against those who believe that war offers impunity from the law. In the case of World War II, the conscience of the world was shocked by the photographs of concentration camp victims taken by Margaret Bourke-White and by the word-pictures painted by radio reporters such as Edward R. Murrow and Larry LeSueur. Later, testimony from concentration camp survivors, as well as film and photographs, was used in the Nuremberg Trials as evidence of Nazi atrocities.
The importance of journalism during and after conflict has not diminished any since 1946. Today, my focus is on the Syrian Civil War and on two initiatives begun at Syracuse University College of Law. Both the Syrian Accountability Project (SAP) and Impunity Watch work to account for war crimes and crimes against humanity committed by all sides of the conflict and to pressure the international community to plan for some form of postconflict justice mechanism.
My work and that of my students relies heavily on accurate reporting on the ground in Syria, whether its to help build a "crime matrix" that might be used by a future international prosecutor or to inform the public of the suffering of ordinary Syrian citizens. We rely on both professional journalists working for the few traditional news agencies left in Syria, such as Reuters and the BBC, as well as independent reporters and citizen journalists, whose outlets might be less familiar: Women Under Seige, World Crunch, or Bellingcat.
What are the consequences for a conflict when journalists are targeted, threatened, attacked, or killed? Some answers readily come to mind. Large news organizations tend to reduce or even end coverage. Less news from this region leads to a diminishment of the conflict in the public's mind, and therefore less pressure on governments to bring hostilities to a peaceful end. The news vacuum is often filled by propaganda.
Independent reporters are doing their best under extreme conditions, but their images and stories are lost in white noise, especially in a U.S. presidential election year. Sometimes an image from Syria that shocks the conscience does resonate. Recently, a CNN anchor broke down in tears when she reported on Omran Daqneesh, the little boy covered in blood and dust sitting in an ambulance after a bombing attack on Aleppo. This iconic photo was taken by Mahmoud Raslan, a photographer for a small start-up news agency, the Aleppo Media Center. It's as powerful a photo as that of Phan Thị Kim Phúc running from a napalm attack during the Vietnam War.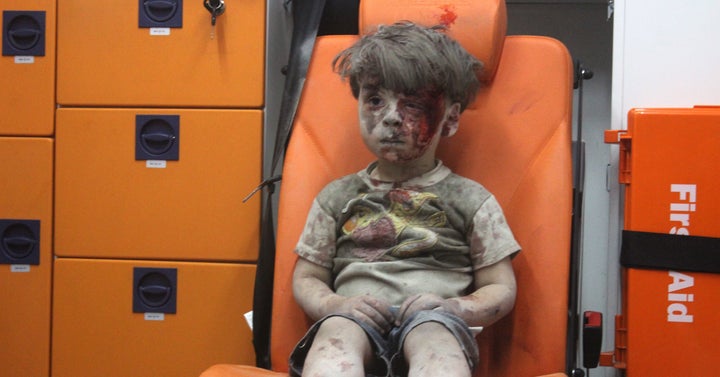 Yet how quickly the photograph of Daqneesh was forgotten as the U.S. news cycle ground on relentlessly.
On Oct. 6, 2016, at Syracuse University, I will join an unprecedented, interdisciplinary gathering of journalists, lawyers, Middle East experts, and political scientists to look more deeply at responses to the Syrian Civil War, the role journalism is playing, and the challenges of covering the conflict. The central reason for bringing journalists together with experts from diverse fields is, firstly, because researchers and practitioners rely heavily on journalism to provide accurate data, ground truth, and evidence trails, as I did when I was the Special Prosector of the SCSL.
Lastly, I urge you to do two more acts to help journalists and journalism in Syria. Firstly, please try to pay greater attention to the Syrian conflict, albeit with the understanding that the US domestic news takes up a lot of bandwidth in all of us. Syria Deeply and Impunity Watch are both excellent sources of independent reporting. Secondly, please help the organizations that help journalists in conflict zones throughout the world, such as the Committee to Protect Journalists and Reporters Without Borders. The latter organization recently won an important victory in 2015, helping to persuade the United Nations to adopt a resolution on the protection of journalists in conflict zones, a step toward giving the same recognition and protections to journalists in war as the international community does to medical personnel.