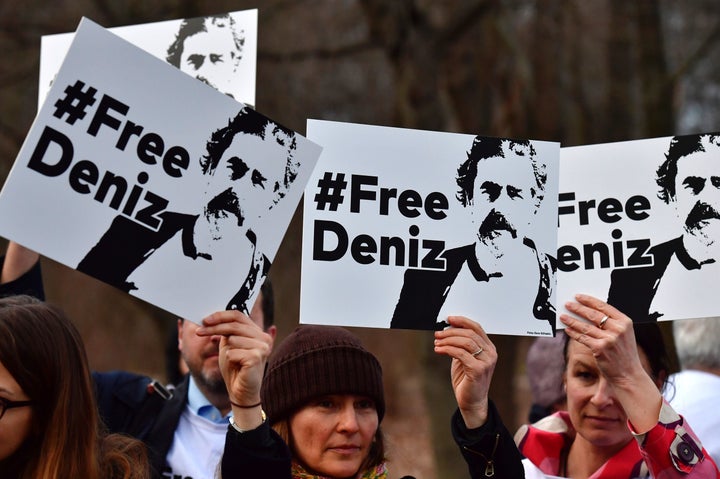 The number of journalists imprisoned around the globe hit a record high in 2017, with at least 262 reporters currently behind bars, according to the Committee to Protect Journalists. They're guilty of doing their jobs.
In an annual report released Wednesday, CPJ said that 87 percent of those jailed journalists covered political news ― a particularly dangerous beat in many parts of the world. The report's findings cover media workers imprisoned by state officials in relation to their work as of Dec. 1. Those who died in custody in 2017 or were released prior to Dec. 1 are not included in the year-end total.
For the second year in a row, more than half of those detained are being held in just three countries: China, Egypt and Turkey, the world's largest jailer of journalists.
Turkish President Recep Tayyip Erdoğan unleashed a stifling crackdown on dissent after a failed military coup in July 2016. His regime has engaged in brutal censorship, including mass arrests and sudden newspaper closures. With a stronger grasp on power than before, Erdoğan even described the attempted takeover as "a gift from God" just days after it happened.
Deniz Yücel, a Turkey correspondent for the German newspaper Die Welt, was detained in February. The first foreign reporter to be held in pretrial custody in the wake of the coup attempt, he is accused of "inciting the public to hatred." Erdoğan reportedly said Yücel is a terrorist because he interviewed a leader of the Kurdistan Workers' Party, which Turkey considers to be a terrorist organization.
German Chancellor Angela Merkel has demanded Yücel's release and vowed that her government will do "everything in its power" to secure his freedom.
"A free and independent press is part of democracy and must never be questioned," Merkel said, noting that Yücel "did nothing but do his job."
More than 1 in 4 imprisoned reporters worldwide is locked up in Turkey. Every single one is being investigated for "anti-state" crimes, according to CPJ.
The organization also identified strongmen Xi Jinping and Abdel Fattah el-Sisi, the respective presidents of China and Egypt, as press freedom predators.
When Beijing unveiled its new generation of leaders in October, it didn't identify a clear successor to Xi, further elevating his near-absolute authority over the nation of 1.4 billion people. The state of free speech has drastically worsened under his leadership in China, where 41 journalists are imprisoned, per CPJ. Many media workers detained there were arrested after making coerced confessions, according to Reporters Without Borders.
In Egypt, where 20 journalists are being held, a draconian new anti-terrorism law has tightened the government's strangling grip on the press. Some reporters spend years in detention without being charged or tried, Reporters Without Borders writes.
An outspoken admirer of Erdogan, Xi and Sisi ― despite their well-documented histories of human rights abuses ― U.S. President Donald Trump has also vilified and threatened journalists. His own anti-media rhetoric and his failure to condemn the actions of those authoritarian leaders serve to "reinforce the framework of accusations and legal charges that allow such leaders to preside over the jailing of journalists," CPJ asserts in its report.
"Our task in helping to get reporters freed or prevent the detention of others is made harder by the perception that the United States is not as bright a beacon of press freedom as it once was," CPJ's deputy executive director, Robert Mahoney, told HuffPost.
"When President Trump denigrates journalists and dismisses reporting that he does not like as 'fake news,' it undermines the value of the press in a democracy and sends a terrible signal to those in power around the world who have few institutional or political restraints on their ability to stifle critical voices," Mahoney said.
Instead of berating the media, CPJ and other press freedom advocacy groups have called on Trump to use his position to remind repressive regimes that journalism is not a crime.
Popular in the Community