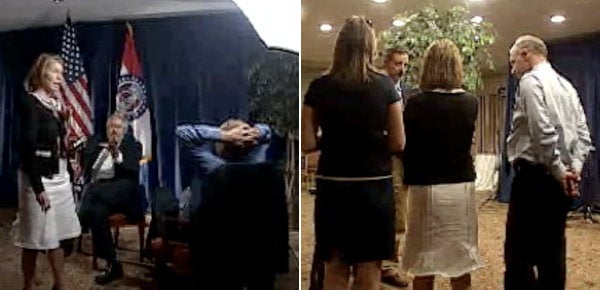 Clearly not all reporters are enamored with John McCain's press operation.
Early Wednesday, the Fox affiliate in St. Louis posted video of an awkward, testy exchange between several reporters and McCain's senior press aides -- Brooke Buchanan, the national press secretary, and Nicolle Wallace, the former White House communications director.
"I think there was an attempt by somebody in your staff to take a look at the shot, and I have never, ever had anybody at any organization..." a peeved station staffer told Wallace before being interrupted.
"Really? You've never done anything at the White House?" she replied. "I was at the White House for seven years and we looked at every shot." The staffer pushed back, "Not at our shots," while his colleague asked Wallace, "Which White House?" She refused to answer, saying it didn't matter. He replied, "Oh yes it does!" Wallace told him he looked "agitated."
Later, another reporter asked the McCain aides for their names. Buchanan responded, "Why does that matter?" and asked sharply, "Do we have a problem here, because if -- we may want to reschedule for another day..."
A compelling look at the sausage-making behind presidential candidate interviews.
Update: Some more details on the reporters in the video, from a reader: "The Fox (KTVI) reporter in the blue shirt with his back to the camera is Charles Jaco. The NBC (KSDK) reporter sitting next to him is Mike Owens. The last person standing up asking for names is Mike O'Connell from CBS (KMOV)."
Popular in the Community