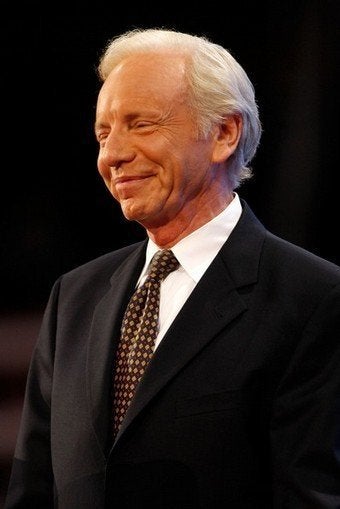 The entire Democratic Senate caucus will gather tomorrow to vote on whether Joe Lieberman should keep his position as chairman of the Homeland Security Committee. Sources tell MSNBC the vote will go his way:
According to sources familiar with negotiations, Democrats are expected to vote in favor of letting the Connecticut senator keep his chairmanship and seniority, but give up the gavel on a subcommittee he chairs. The vote happens tomorrow morning by secret ballot.

The tide turned in Lieberman's favor, sources say, after two events in recent weeks. First, President-elect Obama told Senate Majority Leader Harry Reid that he wanted Lieberman to stay in the Democratic caucus. Later, in a meeting with Senate Majority Leader Harry Reid, Lieberman told him it would be "unacceptable" for him to give up his gavel. That was considered by some as a veiled threat that Lieberman would jump to caucus with Republicans if he was forced to give up the gavel.

Obama tipped the scales in Lieberman's favor, one source said. The source essentially explained it like this: If the wrath was directed at Obama and got over it, shouldn't the Democratic caucus do the same?
Despite campaigning for the Republican presidential candidate, Sen. Joseph I. Lieberman has "significant support" from the caucus, ally Ken Salazar said Monday.

"I think he will be a force of good in supporting an Obama administration," said Salazar, D-Colo. He is part of a four-member whip team tasked with talking to other members of the caucus to find out what, if any, punishment Lieberman deserves for supporting Sen. John McCain, R-Ariz., and campaigning against President-elect Barack Obama.

...

Some senators say they will defer to their party leaders.

"I'll follow the leadership position and President-elect Obama's recommendation," said Sen. Barbara A. Mikulski, D-Md. "Send a message, but don't pick a big fight within the family."
On the other hand, Sen. Tom Carper (D-DE), a close ally of Lieberman's, says the Senator should pay consequences:
"There need to be consequences, and they cannot be insignificant," Carper said in a Monday interview with The Hill.

...

Carper said he and three other Senate Democrats have been making phone calls to "take the temperature of our caucus." He said the purpose of the calls was not to lobby senators for any particular action for or against Lieberman, but "just to see where people's hearts and their minds are."

Carper said that "many of my colleagues ... are very angry with his criticism of Sen. Obama," but he would not say which sanctions he prefers.
Calling all HuffPost superfans!
Sign up for membership to become a founding member and help shape HuffPost's next chapter