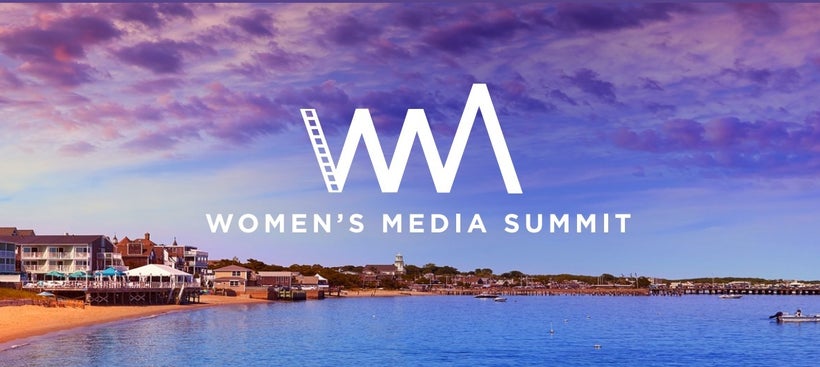 On March 27, 2017, women's rights in the workplace were threatened when the current administration revoked the 2014 Fair Pay and Safe Workplace executive order. The rollback repeals protections meant to create more equitable work environments for women including prevention of discrimination and ensuring equal pay. This administration's hostile trajectory of federal policies towards women deals a significant blow to civil rights that has many alarmed.
At the same time, 102 women were converging on Provincetown, MA for the inaugural Women's Media Summit. They tasked themselves with developing pragmatic and non-partisan solutions to the systemic gender discrimination that infects every level of the media and entertainment industry. The goal of the Women's Media Summit was to develop a "White Paper" of tools and actionable strategies with benchmarks "to create an immediate shift toward gender equality among American storytellers." Although the conference had been planned months in advance, its timing was now infused with a sense of urgency.
With that, on the tip of Cape Cod at the beginning of a rainy weekend in April, industry leaders and organizers across disciplines acknowledged that gender discrimination is not just a moral and legal imperative – it is a human rights issue. Article 19 of the Universal Declaration of Human Rights states: "Everyone has the right to freedom of opinion and expression; this right includes freedom to hold opinions without interference and to seek, receive, and impart information and ideas through any media regardless of frontiers."
And yet, according to a new report by the Center for the Study of Women in Television and Film at San Diego State University, the number of women directing the top 250 movies in 2016 actually decreased to 7%, a decline of two percentage points from the previous year. Additionally, women account for only 13% of writers, 17% of executive producers, 24% of producers, 17% of editors, and 5% of cinematographers.
As further proof of systemic gender discrimination, the Equal Employment Opportunity Commission (EEOC) is currently in settlement talks with the major Hollywood studios. The talks focus on unfair hiring practices. While the EEOC cannot comment on the details, it has been widely reported that after an investigation beginning in October 2015, the EEOC found that every studio engaged in discriminatory hiring practices against female directors.
This is an issue that each generation believes it has discovered for the first time, or as New York Women in Film and Television (NYWIFT) President Alexis Alexanian refers to it: the "new old issue."
The ramifications of gender discrimination are not just financial. Film, television and other media are our biggest exports. This is how we learn about ourselves and other cultures. Media representation is crucial when it comes to societal change. "There must be a recognition of the importance of women contributing to our cultural narrative and its enormous impact to our economy and society," says NYWIFT board member Simone Pero. Repeated exposure to gender stereotypes crafted by predominantly male voices conditions an audience to implicit bias. If women are shut out of the story telling process, then they are not in control of their own narrative.
Consider the film Hidden Figures. Taraji P. Henson plays NASA math genius Katherine Johnson who works in a building where there are no bathrooms for black women. She must run across campus through the rain to use the "colored" bathroom until her boss, portrayed by Kevin Costner, saves the day by tearing down the sign and making a speech about the evils of segregation. But that it didn't happen. Vice News reports that in real life, Johnson decided to use the white bathroom on her own. By characterizing Costner as the white male savior, it diminishes Johnson's actions and takes away her power. It sets up the man as the hero for the woman. Now imagine the scene where she is the hero of her own story, deliberately marching into the white bathroom as the real Johnson had done 50 years earlier.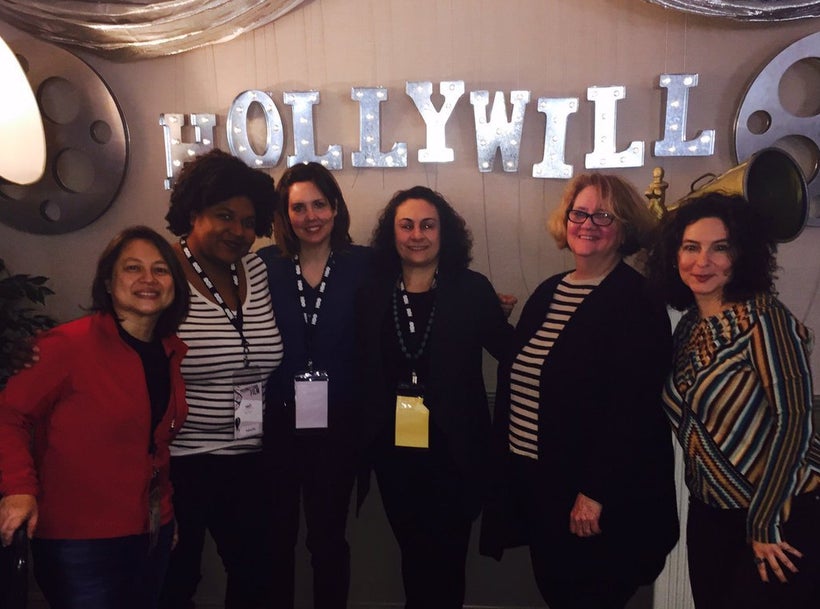 Though not an organizer of the event, NYWIFT showed up in force with five board members, including Alexanian, as well as Executive Director Terry Lawler. For 40 years, NYWIFT has been the preeminent entertainment industry association for women in New York, providing training and professional development, and advocating for equality for its over 2,100 members, who work in all aspects of the industry.
Many ideas were developed over the weekend. Pero explains, "Concrete proposals were made to tackle issues like state-level production-related tax credits linked to gender diversity and parity; women's access to financing; equitable hiring practices; addressing film school disparities, and launching a full on public awareness campaign to get people, audiences, notables outside the industry engaged in the issue."
In the coming months, the organizers will distill these ideas into the White Paper. In the meantime, what you can do? Understand your power at the box office, and support films and projects by women. If you work in the business, hire qualified women. Be inclusive; economy of diversity is good for business. Find a mentor. Be a mentor. As Summit guest speaker Alysia Reiner of Orange is the New Black said, "When we do it, we show others it's possible." Be a champion. And if you have ideas about how to move the needle towards gender equity, we invite you to share them with NYWIFT.
Here in their entirety are the NYWIFT board members' takeaways from the Women's Media Summit and how NYWIFT can play a role toward ensuring gender equality in the industry.
Alexis Alexanian, NYWIFT Board President, independent film producer:
"I did find it remarkable that so many people don't know about the variety of resources for filmmakers. I look forward to the idea of aggregating the information and shining a light on the organizations that have a history of supporting women at all stages their careers. It became clear to me that there are many women out there who feel like they are alone in their pursuits and in need of a forum, resources, and the camaraderie of like-minded people."
Terry Lawler, NYWIFT Executive Director:
"It was very important to learn at the Summit that the EEOC is in negotiations with the major studios regarding systemic gender discrimination against women directors in film and television. I hope that what is agreed to has real teeth and that NYWIFT can participate in addressing some of the problems the studios will be forced to solve through training, access and funding. It was also very important to know that equal pay cases are easier to win than gender discrimination cases. Equal pay is not addressed in the EEOC action, and is definitely an issue that NYWIFT should look at."
S. Casper Wong, NYWIFT Board Member, writer, director, producer:
"I was surprised by the fragmentation of our women in media community (perhaps many of us are indie by default) and how wonderful it was to stand under one umbrella of the summit and gather as one. I see the challenges of harnessing all that enthusiasm and commitment into an energy force that will move the needle — as most of the attendees are not full time on this, but volunteers. It was great to see the work already underway by various groups, but the new alliances or coalitions to be built with each other are tougher without sustained contact or formal coordination. Having said that, I see NYWIFT, being one of the largest representations there, could help lead some of the initiatives we discussed."
Simone Pero, NYWIFT Board Vice President, producer, marketing director:
"One of the biggest takeaways for me was to see first-hand that there is a real and palpable energy for meaningful action out there among our women (and men) peers to get to the bottom of this issue once and for all! It was a boost of hope, inspiration, and a reality check that the time is NOW for us to collaborate and come together. I am looking forward to NYWIFT playing its part in addressing many of the efforts and policy initiatives on the ground with our partners at the Women's Media Summit."
Kathryn O'Kane is a director and producer with over fifteen years of diverse experience in television, advertising, and web media.  She is honored to serve as a NYWIFT board member. www.busyk.com
Calling all HuffPost superfans!
Sign up for membership to become a founding member and help shape HuffPost's next chapter
This post was published on the now-closed HuffPost Contributor platform. Contributors control their own work and posted freely to our site. If you need to flag this entry as abusive,
send us an email
.