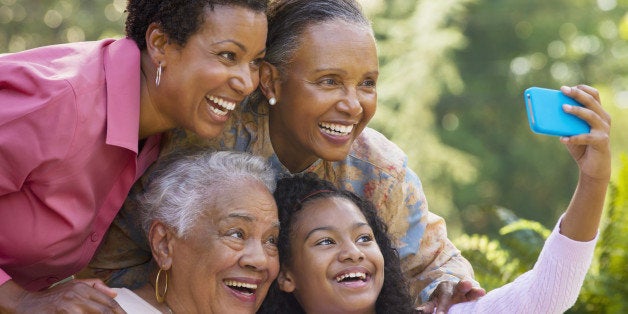 To represent black beauty on a national scale during the age of the Black Lives Matter Movement has been a great responsibility, honor and source of joy; the remnants of which I will carry with me for my lifetime. As we communally work to establish respect for our lives and experiences, My Black Is Beautiful has maintained a positive space for all people to support, uplift and revel in the unique beauty of Black women.
Identifying and appreciating my beauty as a Black woman wasn't easy. Growing up in the 90's as a plus sized black girl provided a challenge when trying to find images across the TV screens and in magazines that looked like me. Anytime I saw a picture of a brown-skin curvy woman in a magazine I was quick to tear it out and put it on my wall among the posters of musicians and others that I looked up to. There were no true mainstream co-signers on my attractiveness, and there would be years of battling issues of unworthiness and fractured esteem before I dared to consider myself beautiful. I had to break mental barriers about my skin color, shift my paradigm about my body type, and truly understand how every element of me was consciously crafted by the creator. It's been my journey since to remind other Black women of their God given sparkle and shine.
The call to honor authentic beauty inside and out is what drew me like a magnet to My Black Is Beautiful. I had been a part of the online community for some time, and when the announcement was made that they were looking for ambassadors I knew this was my chance to shift the conversation about our women, and to inspire those who were experiencing the self-love struggles that I had experienced growing up. Being one of the first ever My Black Is Beautiful Ambassadors has given me that opportunity and more.
Working as an ambassador has strengthened my personal calling and commitment to working with women and youth of color through nonprofit and social enterprise consulting. In the past year I have been able to help launch several Black woman owned nonprofits across the nation including Black Girls Survive Cancer, HairOnPurpose, and Aya, Inc. All of which aim to give voice to the experiences of Black women and to equip them to be their best through health, beauty, and career advancement. I have been propelled to become remain committed to social justice work, promoting community engagement to black youth in underserved communities plagued by citizen and police violence through my nonprofit Eternal Life Project.
One of my most memorable experiences as an ambassador was holding a screening of our Imagine A Future documentary at the distinguished Historically Black women's college, Spelman College in conjunction with a local chapter of my sorority, Delta Sigma Theta. After viewing the documentary some of the best and brightest of our young women shared that at some time in their life they had felt inadequate and not beautiful, with several women admitting that they still battle these feelings daily. We talked about how to overcome those feelings by highlight all aspects of our beauty (inside and out), and by putting our beauty in action through self enhancement and community service. During that screening some of us cried, some of laughed and we all left feeling stronger about our value as Black women.
We live in society with few high level platforms that work to honor black beauty, pride and esteem. My experience at Spelman proved that P&G and its family companies like Clairol Professional are necessary to push us forward on our journey to discover all elements of our beauty. From trying a new hair color (which I did for the first time ever this year, thank you Clairol team!), to starting a new service project that inspires others, MBIB promotes the many ways by which we rediscover our greatness. 2 million women have now joined our My Black Is Beautiful community, and we move forward from this milestone in celebration with our All Together Beautiful campaign, promoting our holistic beauty from inside out.
It is a gift to now be able to look in the mirror with gratitude, in love with the color and curves of my ancestral mothers being reflected back to me. And having now graced the pages of magazines, I know that there is a little black girl somewhere who's ripped out my picture, exclaiming "mommy, she looks like me!" My ambassadorship with My Black Is Beautiful has been a gift, with ever multiplying fruit to pass on to others.
REAL LIFE. REAL NEWS. REAL VOICES.
Help us tell more of the stories that matter from voices that too often remain unheard.