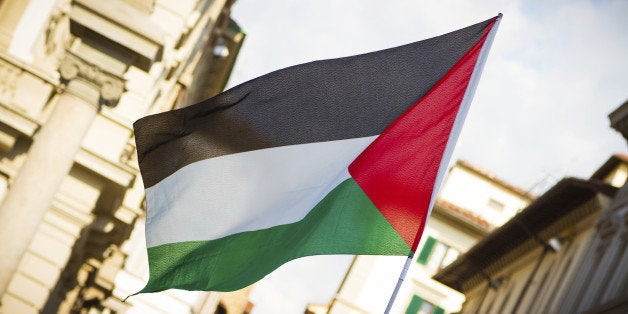 Graduate school was supposed to be boring.
Though I was ecstatic to begin a PhD in Comparative Literature at the University of California, Los Angeles in Fall 2012, I also felt intense trepidation. Impostor syndrome figured prominently among the causes, but so too did the thought of professionalizing at what felt to me to be a relatively young age: if the dizzying highs of what Cornel West calls the "life of the mind" lay in store, then so too, it seemed, did a lifestyle of practically monkish seclusion. My time at UCLA would be many things, but certainly not threatening.
And then I was put on a blacklist.
Due both to my doctoral research focusing on the writing of Arabs in North America as well as my undergoing an extended political and cultural awakening to my heritage as a Lebanese Palestinian, after being accepted by UCLA, I started to attend campus events about and related to the Near East. One of the earliest was a panel put on by an organization I'd never heard of before, Students for Justice in Palestine. Focused on HR 35, a California state resolution that sought to undermine students' ability to organize in support of Palestinian rights on university campuses, the very premise of the panel was chilling, even unbelievable.
Was it really possible in 2012 for a state government to pass legislation contravening student political speech? In spite of--or perhaps partly due to--the urgency of the situation, from that night I was hooked. My personal connection to the cause for Palestinian freedom and self-determination, coupled with growing indignation at the extent of official opposition to student activism in support of Palestinian rights, led me to frequent and participate in SJP events regularly, first as an active member, then as a member of the organization's board and, eventually, as president.
After three years in SJP, my incredulity at the repeated attempts of those in power to suspend freedom of speech when it came to Palestine gave way to an almost jaded nonchalance. Censorship and suppression had become routine. What was more surprising to me, and remains so, is the lack of popular awareness of the decisive struggle for First Amendment rights presently being waged on university campuses.
Engaging in pro-Palestine activity continues to pose serious risks for students and faculty, and yet mainstream media have largely failed to notice the threat to free speech--when they do take note, mainstream outlets often greatly mischaracterize Palestine campus work. Given the intense atmosphere of suppression facing university Palestine activists, such mischaracterizations can have serious implications.
Earlier this year, I was one of many who ended up on a McCarthyist website called the Canary Mission. An anonymously run, ever-expanding electronic dossier of individuals who have worked for Palestinian rights in any capacity, the Canary Mission appears to have been created with the intent to destroy the employment prospects of essentially anyone who engages in pro-Palestine activity (narration in an introductory video to the site urges the viewer to make sure that "today's radicals are not tomorrow's employees"). Propagating the false equation of Boycott, Divestment, and Sanctions (BDS) work with anti-Semitism, and the racist, wholesale dismissal of the Muslim Students' Association and Students for Justice in Palestine as terrorist organizations, the site's political persuasion is clearly fanatically Right, almost to the point of farce. Nevertheless, finding oneself on a site like Canary Mission is intimidating no matter who you are. It is a reminder that, no matter how principled our stance, working to advance the cause of Palestinian freedom and self-determination can have serious professional consequences. Furthermore, given Israel's discriminatory security procedures, a Canary Mission profile will certainly make it even more difficult for Palestinian Americans to visit their families in Palestine.
Unfortunately, in terms of the hazards inherent to Palestine campus work, Canary Mission is barely the tip of the iceberg for students and faculty. In 2012, simply for including a link to a page about the Cultural and Academic Boycott of Israel on the website of his course about indigenous responses to globalization, Professor David Shorter of UCLA had a complaint filed against him by Amcha Initiative, a Zionist organization with a steady history of legal attacks against academics with pro-Palestine views. As a result of the complaint--which Amcha also sent to California politicians, Chancellor Gene Block and the University of California (UC) President at the time, Mark Yudof-- Dr. Andrew Leucther, UCLA's then-Academic Senate Chairman, reviewed Shorter's course materials, sided with Amcha's assessment, and erroneously told the media that Shorter had admitted a mistake, when in fact he had not. Fortunately, the Academic Senate Committee on Academic Freedom dismissed Amcha's complaint and criticized Leucther's behavior, but not before Shorter was accused of being an anti-Semitic professor in various news outlets.
In March of 2014, Northeastern University's Students for Justice in Palestine chapter was suspended for circulating mock eviction notices in order to draw attention to the demolition of Palestinian homes that occurs in the occupied territories. In June of the same year, an ethics pledge circulated by members of Jewish Voice for Peace, Armenian Students' Association and Students for Justice in Palestine at UCLA asking student politicians not to accept free trips from lobbying groups with a history of bigotry was condemned as "bullying" by a Los Angeles City Council resolution that called on university administrators to intervene and even consult law enforcement "where appropriate." The City Council resolution was authored by Bob Blumenfield, who also sponsored the aforementioned HR 35. UCLA Chancellor Gene Block and UC President (and former Head of Homeland Security) Janet Napolitano both released statements criticizing the ethics pledge. With six other staunchly Zionist organizations in support, Amcha Initiative began its own campaign against the ethics pledge, calling on university officials to prohibit SJP's activities and predictably casting the work of SJP and affiliated groups as anti-Semitic and rooted in terrorism.
August 2014 saw the euphemistic "unhiring" of Professor Steven Salaita from the University of Illinois, Urbana-Champaign because the UIUC Board of Trustees did not approve of his tweets condemning Israeli violence against civilians in Gaza.
This past July, the UC Board of Regents voted not to adopt the US State Department definition of anti-Semitism, which does not adequately distinguish between criticism of Israeli policy and actual bigotry, instead putting forward a broad Statement of Principles Against Intolerance. Unfortunately, at an open Regents' meeting in September, a large number of speakers from the public urged the Regents to reconsider the State Department definition, and several Regents opined that greater emphasis needs to be placed on punishing unacceptable forms of speech. The most shocking example of this came from Regent Richard C. Blum, husband to Senator Dianne Feinstein, who claimed that Senator Feinstein "will engage publicly and is prepared to be critical of this university" if whatever statement the Regents adopt isn't coupled with legitimate "penalties." Blum added "students that do the things that have been cited here today probably ought to have a dismissal or a suspension from school," a chilling remark for me to overhear in the audience as a UC graduate student who participates in campus Palestine activism. The sentiment seemed to be that certain forms of political speech should be off limits, even if it means threatening the status of politicized UC students like myself. As Glenn Greenwald wrote in an article for The Intercept:
Not only is Blum demanding adoption of the State Department definition, despite the fact that (more accurately: because) it would encompass some forms of BDS activism and even criticisms of Israel. But, worse, he's also insisting that it be binding and that students who express the ideas that fall within the State Department definition be suspended from school or expelled. And he's overtly threatening that if he does not get his way, then his wife - 'Your Senior Senator' - will get very upset and start publicly attacking the university, a threat that public school administrators who rely on the government for their budgets take very seriously.
Although Palestine activism has also made significant gains, the message is clear: whether we're undergraduate students, graduate students or even faculty, no status or title will protect us from suppression for going against the political grain. According to a joint report by Palestine Legal and the Center for Constitutional Rights, in 2014 and 2015 there were over 300 incidents of suppression around pro-Palestine speech and activity, with 85% targeting students and scholars on more than 65 college campuses across the U.S.
And the stakes are only increasing: a summit convened this summer by Sheldon Adelson strategized how best to fight BDS on campus and raised 50 million dollars. Israeli Prime Minister Benjamin Netanyahu pledged the equivalent of 25 million dollars to fighting BDS. With the attempted silencing of pro-Palestine voices already so blatant, it remains to be seen how largely grassroots efforts in support of Palestinian rights will stand up to considerable funds and increased political scrutiny.
Graduate school was supposed to be isolating and devoted to poring over texts--dull work to many. It's proving to be anything but as the fight is increasingly joined on whether to make a Palestine exception to the First Amendment.
Popular in the Community