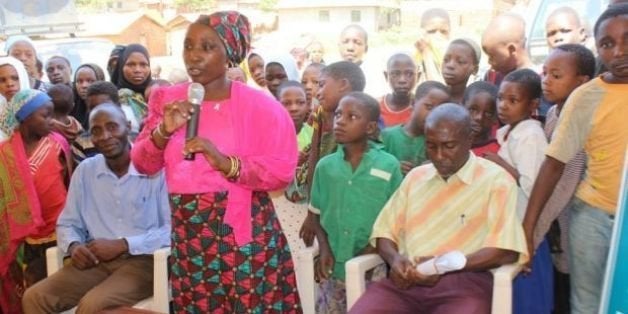 At the heart of maternal health and child survival is a healthy woman. Protecting every woman's right to access family planning and reproductive-health services is critical to ensuring a sustainable future. As world leaders gear up to adopt a new set of Sustainable Development Goals (SDGs) aimed at "Transforming Our World," they will chart the course for change over the next 15 years by outlining objectives and targets aimed at reducing poverty and preventing inequity. In order to achieve the sustainable health breakthroughs outlined in these goals, we must start delivering on our reproductive health commitments -- and that begins with identifying tangible ways to achieve much-needed progress for women and girls everywhere.
There is truth to the observation that a whole can be greater than the sum of its parts. This insight lies at the core of the successful implementation of the SDGs, in particular Goal 16, which prioritizes the promotion of just, peaceful and inclusive societies. At the cornerstone of every just, peaceful and inclusive society are equitable health outcomes that can only be achieved by working across sectoral divides. Under the right conditions, we believe that bringing together a broad, diverse group can yield results far greater than the participants would achieve on their own. Our collective success on this front relies on strong multi-stakeholder partnerships that include civil society, the private sector, and local and national governing bodies.
We can expect that some of the most exciting progress over the next few years will come from innovative partnerships that align resources, talents and agendas to solve formerly intractable problems. Millions of women and girls in the world's poorest countries will be -- and should be -- able to exercise their reproductive freedom as a result of the shared vision and dedication of colleagues representing governments, NGOs, pharmaceutical companies, donors and multilateral organizations. Together, we have a joint responsibility to implement transformative reproductive-health policies that prioritize the health rights of women and girls to enable prosperous and peaceful communities.
We stand at crossroads today. On one hand, we can continue down the well-traveled path and conduct business as usual. On the other hand, the SDGs present us with unprecedented opportunity. We have witnessed countries around the world ramp up their commitments toward improving access to reproductive, maternal, newborn, child and adolescent health (RMNCAH), but we have also found that country commitments alone are not enough. Herein lies the opportunity.
When it comes to effectively accelerating progress on our reproductive-health goals, a confluence of factors -- including the need for accountability and strategic partnerships -- are at play. Accountability hinges on ensuring the necessary mechanisms and reporting structures are in place at the governance level to implement, monitor and evaluate country commitments. Equally important are partnerships that rest on open channels of communication and transparency between governments and their communities in order to serve the hardest to reach and identify areas where the need is the greatest.
When the right mechanisms are in place to track government expenditures, to guide policy decisions based on data and evidence, and to ensure participation and representation at all levels, we can develop more effective and transparent health systems that serve more people. Ultimately, our global reproductive-health goals can translate into action only when we can work collectively to build stronger and more accessible health systems designed to promote transparency and respect human rights.
Palpable advancements in global reproductive health will come when we can offer a comprehensive range of services that will reach more people in need. As we accelerate momentum toward achieving our collective goal of ensuring global maternal and child health, we must lend our voices and our funding in unison as part of our shared vision to deliver on our promise to protect human rights.
We are inspired by the power and promise of partnerships, the dynamic intelligence and creativity of our colleagues in all sectors, and our shared dedica­tion to achieving a just, peaceful and inclusive society. The SDGs are ambitious and they are achievable. Only together will we succeed.
This post is part of a series produced by The Huffington Post, "What's Working: Sustainable Development Goals," in conjunction with the United Nations' Sustainable Development Goals (SDGs). The proposed set of milestones will be the subject of discussion at the UN General Assembly meeting on Sept. 25-27, 2015 in New York. The goals, which will replace the UN's Millennium Development Goals (2000-2015), cover 17 key areas of development -- including poverty, hunger, health, education, and gender equality, among many others. As part of The Huffington Post's commitment to solutions-oriented journalism, this What's Working SDG blog series will focus on one goal every weekday in September. This post addresses Goal 16.
Popular in the Community