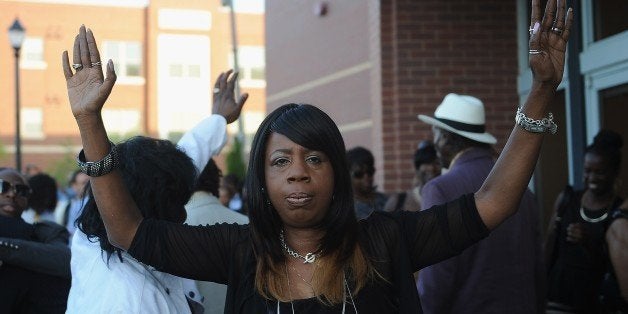 "I thought you worked on abortions so how can you also believe Black Lives Matter?" That was the question I was asked when, on the anniversary of Roe v. Wade, I posted remarks, via social media, on the importance of honoring this anniversary and all the women who labored and even lost their lives so that future generations of women would be able to make their own decisions about their bodies. On the same day, I posted an article related to an organizing effort centered on Black Lives Matter, and on that same day I received that message.

I direct a Reproductive Justice organization and we do work to ensure that abortions remain legal and safe and that women have the human right to access an abortion when needed regardless of a woman's locality, economic or immigration status. But Reproductive Justice is not just about abortions any more than equal rights for women are not just about the right to vote.

Reproductive Justice is the term created by black women in 1994 to bridge the gap between reproductive rights and other social justice movements. Reproductive Justice, the human right to not have children, to have children, to parent the children one has in healthy environments and the human right to bodily autonomy and to express one's sexuality freely, insists that we see abortion and reproductive health in the larger context of the overall health and wellness of women, our families and our communities.

For example, demanding that that our health insurance pay for birth control pills and abortions means that we must also address the reality that many people still can't afford insurance or don't have access to get to a doctor.

Although this notion of a more integrated approach to our movement work sounds great in theory, there seems to be this belief that the more attention we put on gender, sexuality, reproduction and violence against women, the more distracted we become from the bigger issues that Black people face that seem to focus around safety, protection and equality for our Black men and boys.

I found myself re-reading the question from my inbox over and over again. "I thought you worked on abortions so how can you also believe Black Lives Matter?"

The truth of the matter is all of life intersects and we do not live single-issue lives. We can feel the pressure and discrimination. We see the violence inflicted upon us on a news loop 24 hours a day. But do we also know that Black women are dying at a rate four times higher than their white counterparts in childbirth? Do we know that Black women still make less than their male counterparts? Do we know that Mississippi is down to one last abortion clinic for the entire state? Do we know that pregnant women in Tennessee are being criminalized for substance abuse issues as opposed to being rehabilitated? Do we know that federal funds cannot be used to assist women in getting an abortion due to the Hyde Amendment?

Black women have always been at the forefront of our movements. It was the organizing efforts of Black women that started the Reproductive Justice movement twenty years ago and Black queer women that started the Black Lives matter movement, yet we still have to constantly reaffirm that black women and girls' lives are equally as important to the lives of Black men and boys.

Black women have always marched on the front lines for justice and we did so sometimes with menstruation pains, we did so having to remember to take our birth control, we did so pregnant or caring for children, we did so dealing with non-consensual touch or harassment and we did so sometimes with the picture of our slain child, or husband or father or brother or sister on our shirt as a memory.

As I look to the future, I envision a world where our reproductive rights aren't seen as a separate issue that fall squarely on our shoulders alone. To separate reproductive health and rights from the fight for Black liberation would only further our opponents ability to use wedge issues as a strategy to divide us and diminish our collective force that we have yet to fully exercise.

I never responded to the person who sent me the message, but hopefully they will read this article and understand that I have to advocate for abortion access and support efforts like Black Lives Matter because my Blackness and my womanhood are inextricably linked, and I choose all of me. I believe our future depends on all of us bringing our full selves to the fight for freedom, and I believe that Reproductive Justice is the framework that will carry us there.
This post is part of the "Black Future Month" series produced by The Huffington Post and Black Lives Matter for Black History Month. Each day in February, this series will look at one of 28 different cultural and political issues affecting Black lives, from education to criminal-justice reform. To follow the conversation on Twitter, view #BlackFutureMonth -- and to see all the posts as part of our Black History Month coverage, read here.