Reproductive rights organizations may face a brutal battle now that Donald Trump is president-elect. But they promise they're ready ― and they're not going anywhere.
"This morning, Planned Parenthood health center staff across the country woke up, went to work, and opened their doors to care for anyone who needs them," she wrote. "They will do it again tomorrow, and the day after that — just as they have since our movement began 100 years ago.

In the weeks and months to come, it will be more important than ever to stand together and keep fighting to ensure Planned Parenthood health centers can be there for those who need them most — people who come from communities that especially need our continued support in this new reality – immigrants, people of color, the LGBTQ community, people of faith, and more.

Our commitment to protecting the rights and health care of millions of people will continue to be unwavering. Together, we are strong. We are powerful. And we are never, ever giving up.

And here's something to remember: The majority of Americans believe in access to health care and reproductive services, in protecting the right to safe and legal abortion. The fights to come won't be easy, but we're in this together. We're not alone. And we're not backing down."
"It's been kind of extraordinary," she said Wednesday night. "Thousands of supporters around the country took to social media last night immediately, folks have been dropping off baked goods at our health centers."
Trump has also advocated to repeal and replace the Affordable Care Act, which offers birth control at no extra cost.
In the event that this does happen, many women rallied together on Wednesday, encouraging one another Wednesday to get intrauterine devices, or IUDs, while they still can.
"What's been amazing has been the number of women who have called and made appointments for birth control," Richards said. Planned Parenthood is seeing many new patients coming into their health centers as a result, she added.
Richards reminded Trump that abortion is a legal right women have possessed in the U.S. for more than 40 years and holds the support of people across the aisle.
NARAL Pro-Choice America emphasized their support for women by referencing Trump's fierce anti-choice campaign. He went as far as saying that women should face "some form of punishment" if abortion were banned.
"We urge President-Elect Trump to oppose all policies that harm the health, wellbeing, and dignity of our patients and that interfere with the doctor-patient relationship," said Physicians for Reproductive Health board chair Dr. Willie Parker in a statement Wednesday. "We will remain vigilant and hope to find a way to work with the administration to protect our patients."
Women of color will continue to make their voices heard, Sister Song executive director Monica Simpson said in a statement on Wednesday.
"We have led our communities in the fight for health and rights throughout the course of history," she wrote. "We have worked to build strong families in the face of ignorance, hate, and structural oppression. We will continue to do so. We will resist."
It will likely not be an easy fight. Vice President-elect Mike Pence has led a long crusade to limit reproductive rights. He even signed a bill into law as Indiana governor that banned abortions in the state based on a woman's motivations for wanting to have one. It goes so far as to require women to bury or cremate their aborted fetuses.
But Richards made an important reminder that there are still plenty of ways people can take action.
"People have to join organizations, join movements that represent their point of view and their values," she said. "We need a very robust civil society, and I believe you will see that."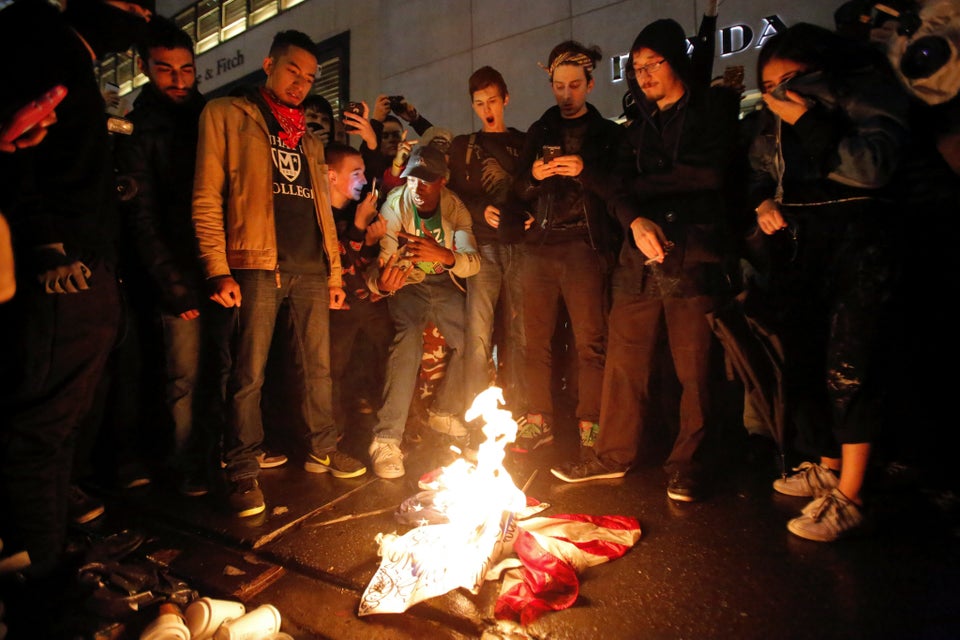 Donald Trump Win Sparks Protests Nationwide
Popular in the Community