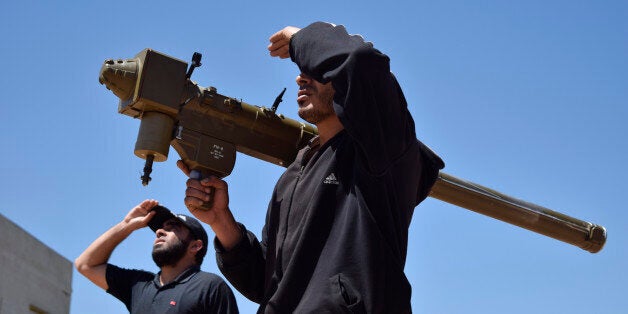 On May 4, 27 Members of Congress, led by Rep. John Conyers (D-MI) and Rep. Ted Yoho (R-FL), sent a bipartisan letter to President Obama urging him to maintain his opposition to the transfer shoulder-fired surface-to-air missiles ("MANPADS") to Syrian combatants. The letter followed a report in the Wall Street Journal that the Central Intelligence Agency was considering supplying Syrian insurgents with MANPADS.
The Conyers-Yoho letter was endorsed by VoteVets, the Friends Committee on National Legislation, and Just Foreign Policy.
Our letter shows broad bipartisan congressional opposition to the transfer of MANPADS to Syria. While we may have differing perspectives regarding the appropriate US response to the horrific violence in Syria, we agree that MANPADS would only lead to more violence, not only in Syria, but potentially around the world.
While the CIA was reported to be considering providing MANPADS to Syrian insurgents, administration officials have continued to express deep skepticism of the idea in the press. "It only takes one stray MANPAD to sneak into Turkey and that would be a very bad thing," a U.S. official told the Los Angeles Times. MANPADS can be fired at aircraft by individuals on the ground and can be easily hidden or transported in the trunk of a car. In 2011, a State Department factsheet noted: "Since 1975, 40 civilian aircraft have been hit by MANPADS, causing about 28 crashes and more than 800 deaths around the world."
In June 2014, the House of Representatives unanimously approved a Conyers-Yoho amendment to the Department of Defense Appropriations Act of 2015 that would have prevented the transfer of MANPADS to any party in the Syrian Civil War. Language prohibiting the transfer of MANPADS to Syria was included in the base text of the Department of Defense Appropriations Act of 2016, which passed the House overwhelmingly.
Concerns over the potential for terrorist groups to obtain MANPADS from U.S.-supplied insurgents have been greatly heightened by incidents in which terrorist groups captured U.S.-supplied weaponry in Syria.
In addition to Reps. Conyers and Yoho, the letter was signed by Reps. Seth Moulton (D-MA), Jeff Miller (R-FL), Ruben Gallego (D-AZ) , Walter B. Jones (R-NC), Beto O'Rourke (D-TX), Mark Meadows (R-NC), Henry C. "Hank" Johnson, Jr. (D-GA), Mick Mulvaney (R-SC), Peter A. DeFazio (D-OR), Richard M. Nolan (D-MN), Peter Welch (D-VT), Steve Cohen (D-TN), Ann McLane Kuster (D-NH), Earl Blumenauer (D-OR), Jared Huffman (D-CA), Louise McIntosh Slaughter (D-NY), Alan S. Lowenthal (D-CA), John Lewis (D-GA), Alan Grayson (D-FL), Jim McDermott (D-WA), James P. McGovern (D-MA), Raúl M. Grijalva (D-AZ), Katherine M. Clark (D-MA), David N. Cicilline (D-RI), Nydia M. Velázquez (D-NY).
The text of the letter follows.
The Honorable Barack ObamaPresident of the United StatesThe White House1600 Pennsylvania Avenue, N.W.Washington, DC 20500 Dear President Obama, We write to express our concern over new reports that the Central Intelligence Agency is designing a plan that could provide shoulder-fired anti-aircraft missiles (also known as Man-Portable Air-Defense Systems, or MANPADS) to non-state actors in Syria. As you may know, the U.S. House of Representatives has repeatedly voted to block MANPADS from being sent to combatants in Syria. In June 2014, the House unanimously approved an amendment to The Department of Defense Appropriations Act of 2015 that blocked the use of any Department of Defense funds from being used to transfer such weapons to combatants in the Syrian civil war under Sec. 9016 of P.L. 113-235. To the extent that Sec. 9016 has been extended by the Continuing Resolution, the MANPADS restriction would continue to apply to any use of that extended authority. Language prohibiting the "procurement or transfer" of MANPADS to Syria was included in the base text of the The Department of Defense Appropriations Act of 2016, which passed the House overwhelmingly. In addition, House Members unanimously approved additional amendments to prohibit the transfer of MANPADS to Iraq and Ukraine, underscoring their grave concerns about the transfer of MANPADS. The concerns repeatedly and unanimously expressed by the House of Representatives were validated when the Pentagon confirmed that last September, Syrian rebels vetted and trained by the United States handed over their equipment to the al Qaeda-linked Nusra Front. The rebels surrendered six pick-up trucks and ammunition--amounting to about one-quarter of their issued equipment--to an agent of the Nusra Front. And just last month, Al-Qaeda's affiliate in Syria attacked a Western-backed rebel faction, taking over bases and seizing U.S.-supplied weapons including antitank missiles. These are just a few examples of the repeated instances of terrorist organizations operating inside Syria acquiring U.S.-supplied weapons from rebels that have been vetted by the Pentagon or CIA. Your own concerns over this type of proliferation had previously led your administration to firmly oppose the provision of MANPADS to combatants in Syria. Reuters has reported that on February 18, 2014, a senior administration official said that the administration "remains opposed to any provision of MANPADS to the Syrian opposition" and Reuters further reported that "The United States has long opposed supplying rebels with anti-aircraft missiles due to concern they may fall into the hands of forces that may use the weapons against Western targets or commercial airlines." On March 28, 2014, one of your national security advisers said: "We have made clear that there are certain types of weapons, including MANPADS, that could pose a proliferation risk if introduced into Syria." We strongly support that view, as MANPADS can easily be hidden in the trunk of a car or even in a golf bag, making their proliferation a serious threat to civilian airliners in the region -- including Israeli airliners -- and across the world. As a 2011 U.S. State Department factsheet states: "Since 1975, 40 civilian aircraft have been hit by MANPADS, causing about 28 crashes and more than 800 deaths around the world." Former CIA Director David Petraeus has said: "As you know, that was always our worst nightmare, that a civilian airliner would be shot down by one." Then-Secretary of Defense Leon Panetta told the Wall Street Journal: "There is no question when you start passing MANPADS around, that becomes a threat, not just to military aircraft but to civilian aircraft." Then-Secretary of State Colin Powell said: "No threat is more serious to [civil] aviation" than MANPADS. Finally, we note that transferring MANPADS to combatants in the Syrian Civil War would appear to violate at least three U.S.-backed international agreements, including the U.S.-initiated G8 Action Plan, The Wassenaar Arrangement on Arms Control in 2003, and a 2005 Organization of American States resolution, all of which prohibit the transfer of MANPADS to non-state actors. Accordingly, we urge you to maintain your stance in opposition to sending MANPADS into Syria and also request that you strongly discourage all nations from doing so. We thank you kindly for your attention to this important matter. Sincerely, Rep. John ConyersRep. Ted Yoho, Rep. Seth Moulton Rep. Jeff Miller Rep. Ruben Gallego Rep. Walter B. Jones Rep. Beto O'Rourke Rep. Mark Meadows Rep. Hank JohnsonRep. Mick Mulvaney Rep. Peter DeFazio Rep. Richard Nolan Rep. Peter Welch Rep. Steve Cohen Rep. Ann McLane Kuster Rep. Earl Blumenauer Rep. Jared Huffman Rep. Louise McIntosh Slaughter Rep. Alan S. Lowenthal Rep. John Lewis Rep. Alan Grayson Rep. Jim McDermott Rep. James P. McGovern Rep. Raúl M. Grijalva Rep. Katherine M. Clark Rep. David N. Cicilline Rep. Nydia M. Velázquez
Related
Popular in the Community