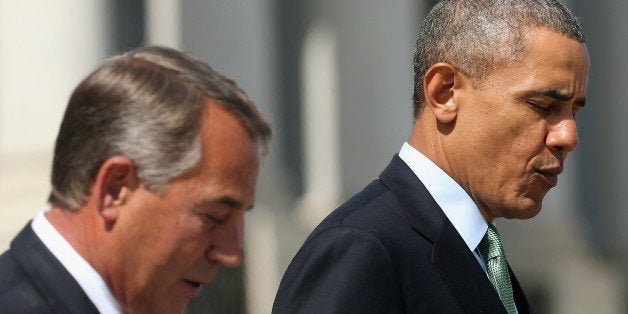 WASHINGTON -- At a briefing at the Republican National Committee headquarters on Wednesday afternoon, top officials from the major GOP campaign committees were in a cheerful mood. The president's approval rating has been teetering on the edge of the toilet seat for several months. Generic congressional ballot polls looking toward this fall's elections look good for Republicans. And the party's infrastructure is such that the GOP could turn close races into victories.
In short, the political landscape is pretty rosy for Republicans ... per these Republicans.
But what if it's all a facade? Certainly, these top officials have some latent fears about the 2014 elections. Their political confidence must come with a few caveats, if not a touch of election-season superstition?
After the briefing was done, HuffPost asked the executive directors of the RNC, National Republican Senatorial Committee and National Republican Congressional Committee the same question: What will keep you up at night from now until the elections?
The answer: being swarmed by Democratic cash. The officials are less worried about pending legislation, as well as a potential impeachment vote that could make the party seem petty and partisan. Below are lightly edited transcripts of the conversations.
Mike Shields, RNC chief of staff
Are there one or two things that make you nervous going into the election?
I wouldn't say nervous. Look, we still have to raise money, we still have to turn out our voters. We are at the execution phase. It is kind of like: We've been given a good playing field; now we've got to go out and do the things we are supposed to do from an RNC perspective.
Is there a factor you feel could tip the balance or trajectory of the race?
You are looking at the president's numbers and you are wondering, what could happen?
An impeachment could happen, right?
Well, it's not going to, though.
But there are things out there theoretically?
Yes, a dinosaur-killing meteor could come out of space and that might change the trajectory.
That would be a slightly bigger issue than impeachment.
But when you're at that level, that's not very good for the president if that's what they're hoping for, right? Look, one poll is a snapshot. A week of polls is sort of a trend. When you see a month of polls, that's a judgment. The country has sort of reached a place and something equal to what got them there is going to have to happen to change it. And so, what is going to happen between now and November that is going to fundamentally change the country's perception of a president who has lost all of the ability to push any kind of agenda whatsoever and on top of that is now being viewed as incompetent, ineffective overseas, sort of out of touch?
Fair to say, in essence, that part of your job is to -- pardon my French -- not f*ck sh*t up at this point?
I think our job is to take advantage of the political situation that we've been given to win elections ... From a political operative's perspective, we are in a very, very good place to win this election, but we still have to go out and execute it. Look, I read The Thumpin'. One of the things that Rahm [Emanuel] talked about was if the winds are blowing in our direction, can we take advantage of it? So when I was at the NRCC in 2010, we literally made everyone read The Thumpin' and we said, "We've got to build enough ships so that if the wind is blowing in our direction we [take advantage]." I sort of take that same philosophy today.
Rob Collins, NRSC executive director
What makes you nervous heading into the election?
Tom Steyer [the billionaire environmentalist co-founder of the NextGen Climate Action super PAC] makes me nervous and him having dinner with the president in May in an election year makes me nervous. I think the Democratic outside groups have been fueling their campaigns, and right now we have a gap in spending that we have to make up. But we don't have to outspend them. We just have to provide an alternative. But we are close.
Any legislative hurdles?
No, I think the Democrats have been using the Senate floor politically for eight years. But in the last six months they have really ramped it up and will continue to.
Conventional wisdom is that an impeachment vote would pose political problems for Republicans.
I think Speaker [John] Boehner addressed the impeachment issue pretty aggressively. So I don't think we have to worry about that.
Matt Canter, a spokesman for the Democratic Senatorial Campaign Committee, took issue with Collins' insistence that the GOP faces a "gap in spending." The DSCC, he noted, has raised $88.7 million for the cycle –- almost $24 million more than the NRSC. The DSCC also has $28.2 million in cash on hand, compared with about $22 million for the NRSC. But outside groups have overwhelmingly helped Republicans, Canter noted. "Koch entities and GOP outside groups have already spent over $62 million on TV alone," he said.
Liesl Hickey, NRCC executive director
You painted a rosy picture of the landscape. Is there anything that makes you nervous or keeps you up at night?
A lot of things keep me up at night …
Name a few.
I always look at races like we are 10 points behind, so a lot of things keep me up. The money keeps me up a bit. I think we will be competitive no matter what. The thing that keeps me up is we have so many great opportunities. I would like to be able to take advantage of all of them, and I would like to have enough money to do that.
So it's not a legislative item? It's just the money?
I think in terms of the legislative agenda, I think we are in really good shape ... There are so many great bills that we've got. Our members have had tremendous legislative successes.
You're not saying this thing is on autopilot, are you?
I don't ever think anything is on autopilot ... The atmospherics are good and I think we can capitalize on this.
Josh Schwerin, a spokesman for the Democratic Congressional Campaign Committee, responded as Canter did, pointing out that as of June, the DCCC had raised $124.7 million this cycle and had $50.9 million in cash on hand, while the NRCC had raised about $101 million and had $42.5 million in cash on hand.
Want more updates from Sam? Sign up for his newsletter, Spam Stein.
Calling all HuffPost superfans!
Sign up for membership to become a founding member and help shape HuffPost's next chapter
BEFORE YOU GO
PHOTO GALLERY
100 Years Of Election Night Winners