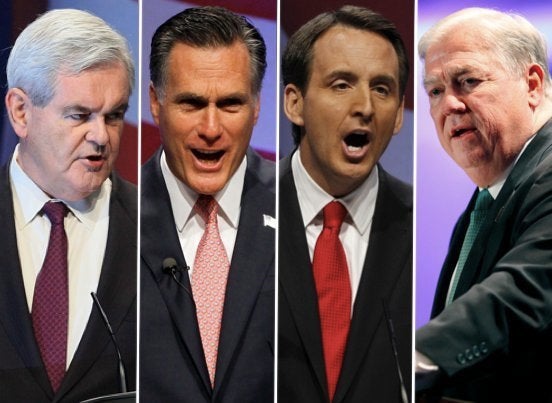 WASHINGTON - Republican angst about 2012 is growing.
Nearly three months into the year, it appears the GOP field of presidential candidates is narrowing. Indiana Governor Mitch Daniels and former Alaska Governor Sarah Palin have looked increasingly less likely to run as of late.
That leaves a front pack of four: former Massachusetts Governor Mitt Romney, former Minnesota Governor Tim Pawlenty, Mississippi Governor Haley Barbour, and former Speaker of the House Newt Gingrich of Georgia.
Normally, winnowing out pretenders would be a good thing. A smaller group of candidates, and a shorter primary than the 2008 cycle, helps limit self-inflicted damage and internal divisions in the party.
However, the dominant response from many Republicans to their current choices remains one of discontent. It has been this way for months, largely because each of the front-runners has a major flaw many think would keep them either from getting out of the primary or from beating President Obama should they win the nomination.
"There is this sense out there of, 'So, anybody else?'" said Grover Norquist, head of Americans for Tax Reform.
A Pew poll released on Wednesday did not help GOP psyches: Results showed 47 percent of respondents hoped to see Obama elected to a second term versus 37 percent in favor of a generic Republican candidate. The Pew poll did note the lack of a consensus GOP candidate helped Obama's numbers. But nonetheless, Obama's numbers are similar to how George W. Bush polled about this far from his successful re-election campaign.
And the time of indulgence for potential candidates is nearing an end. Staff and operations need time to set up in key early states such as Iowa, New Hampshire, South Carolina and Nevada. There is some disagreement among conservatives over how long someone like Palin or Daniels could wait to jump in, but the window is undoubtedly closing.
"There's this perception out there that people can wait a lot longer to declare than they have in the past. I don't think that's true," said former New Hampshire Governor John Sununu on ABC's "Top Line" Wednesday. "I think the candidates better decide pretty quickly."
Fred Barnes, executive editor of the conservative Weekly Standard magazine, disagreed with Sununu, telling The Huffington Post that a dark horse candidate could emerge as late as this fall.
"I think we need to wait until September and see if the field we have is inspiring Republicans or not, and if not, then there might be pressure--enormous pressure--on others to jump in. Chris Christie, Jeb Bush, or even Paul Ryan," Barnes said. "I think there's widespread sentiment that people want to see other candidates."
Barnes mentioned Ryan, the House Budget Committee Chairman, even though he admitted he has given up trying to draft the Wisconsin Republican into running. Our former president's younger brother might also be a long shot, Barnes contended.
"I haven't entirely given up on Jeb Bush, but I've talked to him a number of times and he seems as far away from jumping into the presidential race as he could be," he said.
Another senior conservative figure said he has been "begging" Christie, the first-term governor of New Jersey, to run. But Christie has been resolute so far in saying he is not ready to run.
Karl Rove, a top adviser to former President George W. Bush, told the Washington Post only that "December is too late" for a surprise candidate to jump in.
Most of the big time donors who have given to past GOP presidential candidates are still sitting on the sidelines, further exemplifying the uncertainty surrounding the Republican primary. A USA Today report this week showed that only about 60 of the 530 large donors, or "bundlers," who raised money for Republican nominee John McCain in 2008 have given to any of the potential 2012 candidates.
A GOP operative with extensive experience raising campaign money said there are between 500 and 700 "whales" who can bundle anywhere between $25,000 and $250,000 for a candidate. About a third of these people support Romney, the operative said, but much of the rest of the group is waiting for an alternative candidate to emerge.
Calling all HuffPost superfans!
Sign up for membership to become a founding member and help shape HuffPost's next chapter