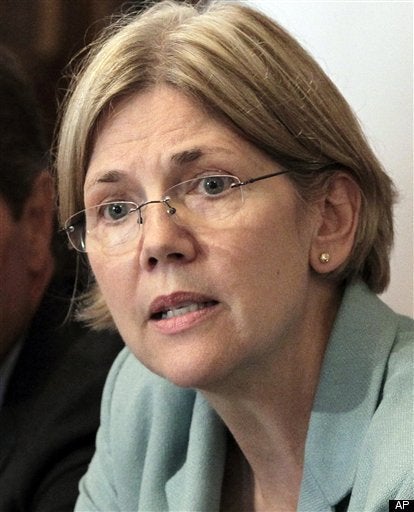 WASHINGTON -- House Republicans are ramping up efforts to hamstring the new Consumer Financial Protection Bureau. One key amendment to the GOP's 2011 budget plan seeks to strip federal salaries from President Barack Obama's so-called "czars," effectively removing them from their offices -- as well as Elizabeth Warren, the consumer watchdog tasked with setting up the CFPB -- while another would prevent the bureau from hiring any staff at all.
Rep. John Carter (R-Texas) has authored an amendment that would prevent Warren and 24 other top administration officials from drawing a salary. That would technically render them unable to continue working for the government, although Congress lacks the authority to force executive-branch officials to stop consulting unpaid advisers. A vote on Carter's amendment is expected later Thursday night.
The House GOP budget plan, known as a continuing resolution because Congress failed to pass a formal budget last year, already includes language that would cut the CFPB's current funding nearly in half, to $80 million. An amendment from Rep. Rush Holt (D-N.J.) to restore the CFPB's funding failed on Thursday night by a vote of 163 to 265.
"[The Republican plan] handcuffs the CFPB to protect big banks that hurt American consumer interests," Holt said on the House floor while arguing for the restored funding.
Rep. Tom Price (R-Ga.) accused Democrats of favoring "oppression" for trying to preserve funding for the consumer-protection agency. "This side tends to believe in more regulation and more oppression," Price said on the floor, referring to the left. An amendment offered by Price would ban the CFPB from hiring staff.
Warren is not formally the director of the new consumer agency. In September, Obama named her Assistant to the President and Special Adviser to Treasury Secretary Timothy Geithner, empowering her to take the lead in establishing its structure and directing its hiring.
Consumer advocates and public interest groups fought hard to get Warren the job, and she has won over some unlikely allies. In an interview with Dow Jones, Rep. Randy Neugebauer (R-Texas), a sharp critic of financial regulation, has praised Warren, saying he has been "pleasantly surprised" by her performance so far, calling her "intelligent."
The Senate will have to confirm a CFPB director by July in order to maintain much of the bureau's regulatory authority. Neugebauer will not vote on the director, who must be confirmed by the Senate, but he offered tepid support for Warren's nomination in the Dow Jones interview.
"She wouldn't be my last choice. I don't know whether she's my first choice, but she certainly wouldn't be my last choice," Neugebauer said.
On the house floor Thursday, however, Neugebauer pushed to cut the CFPB's funding. "The solution is always, 'Let's throw more regulation, more regulators and more money at the problem,'" Neugebauer said. "We don't even have a director at the new administration. ... I want to applaud the Appropriations Committee for figuring out a way to bring some accountability to this organization."
President Barack Obama has threatened to veto the House budget plan if it "undermines critical priorities."
Popular in the Community