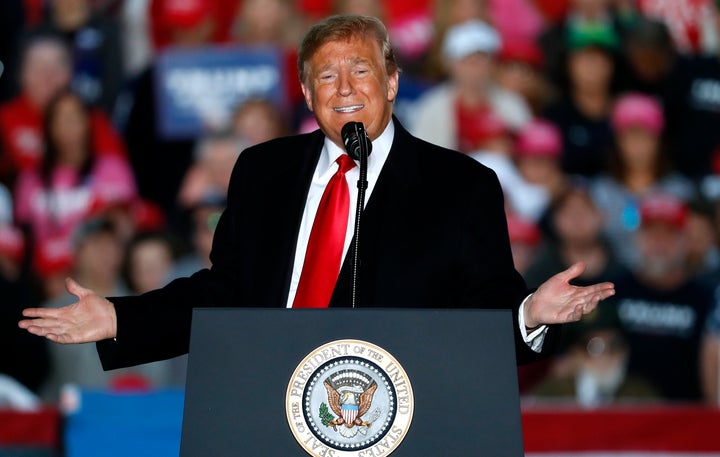 The Republican Party has aired eight times as many ads focused on crime and public safety as it did during the last midterm election, according to a HuffPost analysis, a reflection of President Donald Trump's strategy of trying to fire up the GOP's base with fear.
During the last midterm elections, in 2014, Republicans running for House and Senate seats aired ads about public safety more than 12,000 times, according to data from Kantar Media/CMAG. That number spiked to nearly 107,000 for the 2018 election, an increase of more than 800 percent. While just 2 percent of GOP ads in 2014 dealt with crime, about 12 percent of their 2018 ads have touched on the subject.
Democrats have responded by airing more than 50,000 ads on the issue, typically to defend themselves in response to GOP attacks, up from just over 7,000 in 2014. That represents an increase from 1 percent of all ads to 4 percent.
The spike shows how Trump's successful use of fear-mongering about crime and immigration during his 2016 presidential bid has resurrected crime as a political issue in the United States, despite the overall crime rate remaining low and largely unchanged over the course of the past decade. Trump has unapologetically continued the rhetoric during the run-up to the midterm elections, and his party has followed suit. The ads have run in both the swing districts the GOP is counting on to fend off Democratic control of the House, and in the red-tinted states where they seek to expand their Senate majority.
"A blue wave equals a crime wave," Trump said Friday during a rally in West Virginia for Senate candidate Patrick Morrisey, who is trailing Democratic Sen. Joe Manchin in polls. "A red wave equals jobs and safety."
Not all of the public safety ads are negative or focus on the threat of crime. Some are positive spots about a candidate's support for law enforcement.
Still, the spike has alarmed criminal justice reform advocates. Members of both parties have begun to embrace elements of criminal justice reform, including reduced penalties for low-level drug offenders and the elimination of mandatory minimum sentences, as ways to save government money and increase personal liberty.
"MS-13 is the new Willie Horton."
"Trump resurrected a trend of talking about crime in really alarmist ways that we haven't seen in more than a decade," said Inimai Chettiar, the director of the Justice Program at New York University's Brennan Center.
Unlike the earlier wave of crime ads in the 1980s and 1990s that focused on the threat of black criminals coming from the inner cities, the new ads suggest danger is coming from the southern border, even in districts thousands of miles away from the Rio Grande. Criminal justice scholars have repeatedly found no link between legal or illegal immigration and crime levels.
"MS-13 is the new Willie Horton," Chettiar said, adding that "there's a lot of data out there showing no link between immigration and crime."
Some of the ads suggest Democrats are insufficiently tough on sex offenders, and others slam candidates with prosecutorial backgrounds over the standard practice of cutting deals to give criminals shorter sentences if they plead guilty. Others attack Democrats for giving criminals a defense at all. But the most common ads seem to suggest undocumented immigrants pose a unique threat to Americans, and they slam Democrats for wanting to abolish the Immigration and Customs Enforcement agency.
One spot, titled "Murder, Gangs, Terrorism," attacks Democrat Ron DiNicola, a Marine veteran and lawyer running against GOP Rep. Mike Kelly in a conservative-learning Pennsylvania district, for representing "a Mexican drug lord who tortured and murdered a U.S. agent."
"We're taught crime never pays," a male narrator says in the 30-second ad. "But for Ron DiNicola, crime paid."
A Susquehanna University poll released last week gave DiNicola ― who is running on his military background and work to get benefits for laid-off General Electric workers in the area ― a 51 percent to 47 percent lead over Kelly in the district, which is based around the city of Erie.
In Kentucky's 6th District, Republican groups and GOP Rep. Andy Barr have hammered Democrat Amy McGrath, a former fighter pilot and one of the early stars of the midterm cycle, over her opposition to a border wall. The ads have also accused her of wanting to abolish ICE ― a position she does not hold.
"Amy McGrath, undefended borders. Unsafe communities," a female narrator says at the end of one of Barr's ads. McGrath and Barr are in a toss-up race in a Republican-leaning district centered around Lexington.
Democrats have often responded with spots portraying their GOP opponents as desperate, or with ones that emphasize their support for law enforcement. In North Dakota's Senate race, Democrat Heidi Heitkamp defended herself from attacks on immigration and crime by featuring a retired police chief and Trump voter in her ads. (Heitkamp is trailing GOP Rep. Kevin Cramer in her re-election bid.)
"Heidi voted to arrest, imprison and deport illegal immigrants who commit crimes," the former police chief says. "Heidi was a tough, law-and-order attorney general."
In Arizona's contest, Democratic Rep. Kyrsten Sinema fought back against an attack labeling her weak on sex offenders by calling GOP Rep. Martha McSally's campaign "desperate."
"If she'll lie just to get elected, she'll lie about anything," a narrator says of McSally at the end of the ad. Sinema and McSally are in a toss-up contest.
The immigration and crime ads have reached a new peak in the waning days of the campaign, with Trump labeling a migrant caravan consisting largely of women and children an "invasion," and other Republicans picking up on the theme.
Tennessee Republican Rep. Marsha Blackburn, who is running as a Trump acolyte, is airing an ad attacking Democrat Phil Bredesen for saying "a few thousand poor people is not a threat," in reference to the caravan. The spot then asserts, with zero supporting evidence, there are "gang members, known criminals, people from the Middle East and possibly even terrorists" in the caravan.
Popular in the Community