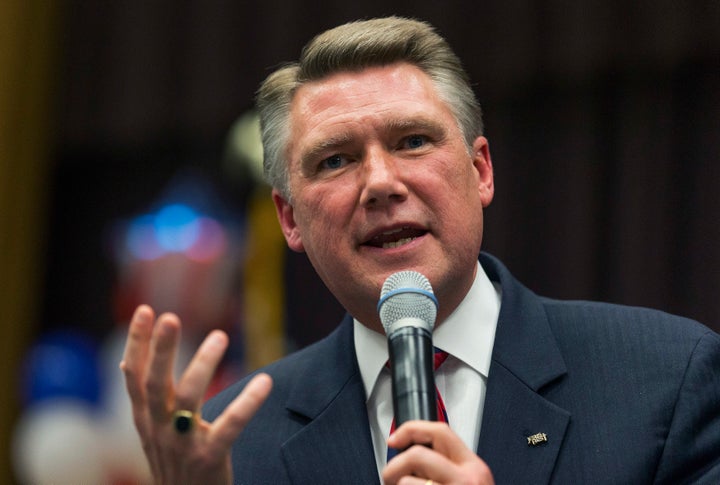 Republican Mark Harris, a Baptist pastor running for a competitive House seat in North Carolina, has increased the TV ads his campaign plans to run on the Weather Channel over the next week as the potentially deadly Hurricane Florence bears down on the state.
Medium Buying, a GOP media-buying firm in Ohio, noted in a tweet that Harris campaign purchased 56 additional commercial spots on the Weather Channel over seven days starting on Thursday.
A media-buying source confirmed the buy to HuffPost, estimating it cost Harris' campaign a little over $1,000 to purchase the additional airtime.
Harris is facing Democrat Dan McCready in the Republican-leaning 9th Congressional District, which covers much of south-central North Carolina. Most voters are centered in the Charlotte suburbs. Harris ousted Rep. Robert Pittenger in an early May primary to win the Republican nomination.
Although President Donald Trump won the district by 12 percentage points in 2016, Democrats think McCready's strong biography (he's a Marine veteran who founded a solar company) and money advantage (he has $1.3 million in his campaign account, compared to Harris' $296,000) gives him a strong chance to triumph in November and improve his party's chances of winning a House majority.
Harris' tactic of gobbling up airtime on a channel many North Carolinians will watch intensely in the coming weeks is either a smart use of limited resources or a deeply cynical way to capitalize on a potential natural disaster.
His campaign didn't respond to an e-mailed request for comment.
McCready, in a statement Wednesday night, announced he was asking TV stations in the state to stop airing his campaign ads.
"North Carolina faces a historic storm in Hurricane Florence, one that poses a serious threat to North Carolina families," he said. "I am ordering the suspension of the campaign. This is not a time to focus on politics."
Hurricane Florence is expected to make landfall by Friday, possibly as a Category 5 storm with winds of 157 mph or higher. North Carolina, along with South Carolina and Virginia, has ordered mandatory evacuations for coastal residents. It is expected to drench the region, with rainfall lasting for days.
Harris isn't the only GOP candidate to purchase time on the Weather Channel ahead of the hurricane. Ohio Attorney General Mike DeWine, the Republican candidate for governor in the Buckeye State, spent $10,000 to purchase 960 additional ads to run on it over the next week.
"There is no targeting in that or strategy in that," he said. "It's a pretty large cable buy, so it's a lot of stations. It is in there, but it's just in the package of stations we bought."
Popular in the Community