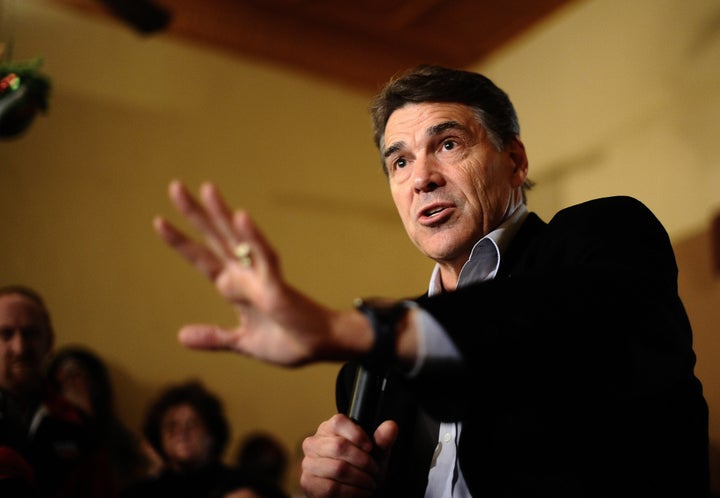 Last week, while most of us were still recovering from holiday meal hangovers, Rick Perry sent a message to those who thought that his anti-gay "Stronger" ad was the epitome of desperation and pandering that you ain't seen nothing yet. (Click here to see Perry's "Stronger" ad, Ron Paul's abortion ad, and others from the primary campaign.) Perry announced in an Iowa town hall that he had undergone a "transformation" regarding his position on abortion and now believes that the procedure should not be permissible in cases of rape or incest.
Around the same time, Ron Paul became the fifth GOP candidate to sign what is known as the Personhood USA Pledge. The pledge, which has also been signed by candidates Bachmann, Perry, Gingrich, and Santorum to date, reads, in part, "I support a human life amendment to the Constitution, and endorse legislation to make clear that the 14th Amendment protections apply to unborn children." It goes on to state, "If elected President, I will work to advance state and federal laws and amendments that recognize the unalienable right to life of all human beings as persons at every stage of development, and to the best of my knowledge, I will only appoint federal judges and relevant officials who will uphold and enforce state and federal laws recognizing that all human beings at every stage of development are persons with the unalienable right to life." Proponents of the pledge have previously acknowledged that it could criminalize birth control, a fact that, when made public, played a key role in torpedoing a personhood measure on the Mississippi ballot last fall.
While abortion remains one of America's most divisive issues, birth control and the issue of abortion in extreme circumstances are not. According to the CDC, 99 percent of sexually active American women use birth control, and though recent polls indicate that Americans are split equally on whether or not abortion should be legal, an overwhelming majority -- more than 80 percent -- believes it should be legal in cases of rape or incest, and nearly 90 percent believe it should be legal to save the life of a mother.
Mitt Romney, who has staked much of his Iowa victory on whether or not voters will believe that, like Perry, he underwent a conversion of his own on the issue of abortion, has not signed the Personhood USA Pledge. But if various reports are to be believed, his own positions on abortion have fluctuated from pro-choice to even more extreme than those of his personhood-pledging counterparts. A new book contends that as a Mormon bishop, Romney tried to dissuade a woman from terminating a pregnancy that doctors warned was causing her internal bleeding. Despite Romney going so far as to follow the woman and her husband to the hospital, the couple made the decision to go forward with the procedure, which allegedly prompted Romney to track down her parents to get them to intervene. It is reported that her father instead decided to throw Romney out.
But perhaps even more disturbing than that anecdote is that it is also alleged that while plotting his political rise, Romney met with Mormon leaders to map out an abortion strategy. It is reported that after consulting with them, a plan was adopted regarding how he would discuss the issue in order to be successfully elected in a left-leaning state like Massachusetts. This allegation plays into Romney's most enduring criticism, namely that the man is incapable of saying what he believes -- ever -- just what he thinks will be the most politically expedient, even if it's a matter of life or death. (To be clear, in this instance I am referring to the life and death of women coping with the dangers of pregnancy.)
Nearly 40 years after Roe v. Wade, the current incarnation of the Republican Party seems determined to set the health of American women back by more than a century, with targeting abortion no longer enough. Birth control rights are increasingly in the line of fire. Perhaps even worse, the current crop of GOP presidential candidates seems determined to treat the health, safety, and rights of American women much like those cultures they often discuss with such scorn and superiority. "Sharia law" has become the dirtiest of dirty words in the culture wars, particularly in America's post-9/11 political landscape. Yet I'm at a loss to see any real difference between the manner in which Sharia law penalizes women who are raped and the efforts of Perry and his Personhood cohorts to penalize American rape survivors with a nonconsensual pregnancy.
It would almost be funny if it weren't so sad and scary, and there's the irony of President Obama being the subject of countless rumors and innuendo about alleged Muslim ties and efforts to inject Sharia law into the upper reaches of our government, while his strongest competition is trying to outdo one another to become the presidential poster child for the Westernized version of the very extremist laws they are busy warning the rest of us about (you know, when they are not trying to enact them on American soil, that is).
The verdict may still be out on who wins Iowa, but one thing's for sure: if any of these extremists wins, women will lose.
Keli Goff is the author of The GQ Candidate and a Contributing Editor for Loop21.com, where this column originally appeared.
Support HuffPost
The Stakes Have Never Been Higher
Related
Popular in the Community